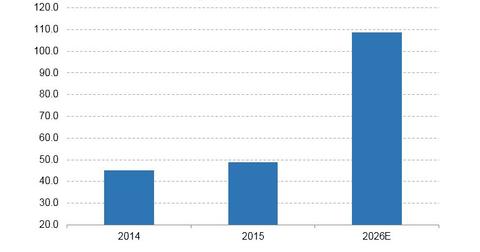 In Vodafone–Sky Merger, A Lesson for Verizon and AT&T Investors
By Ruchi Gupta

Updated
Regulatory obstacles
If some investors have questioned the rationale of Verizon (VZ) and AT&T (T) doubling down on media purchases, an important lesson can be learned from how Vodafone (VOD) and Sky Network Television are fighting hard to save their proposed merger in New Zealand.
The New Zealand units of the UK's (EWU) Vodafone and Sky Network Television are seeking to combine in an ~$3.4 billion New Zealand (~$2.4 billion) transaction. The proposed merger has run into regulatory challenges, and the companies have gone to court to challenge a decision by New Zealand's Commerce Commission to prevent them from merging.
By moving to challenge the antitrust commission in court, Vodafone and Sky Network Television have demonstrated that they need to join forces to cope with the shifts in their industries.
Article continues below advertisement
The rise of SVOD rattling pay-TV incumbents
As phone carriers struggle to gain subscribers as markets mature and pay-TV companies battle competition from SVOD[1. subscription video-on-demand] services, strategic deals such as the one Vodafone and Sky Network Television are pursuing have become necessary. 
The worldwide SVOD market is projected to grow to $108.6 billion by 2026 from $45.0 billion in 2014, according to Future Market Insights.
Responding to a global challenge
Vodafone and Sky Network Television are seeking a merger for the same reason Verizon and AT&T have been acquiring media assets—to respond to global industry shifts. Without a timely response, telecom and pay-TV companies understand that their revenues and profits could be under pressure.
Verizon and AT&T have been collecting media assets in order sell larger service bundles that can attract more revenues and profits. Not only would these media assets help Verizon and AT&T benefit from expanding online advertising budgets (QQQ), but they could also open new markets for their broadband Internet services.