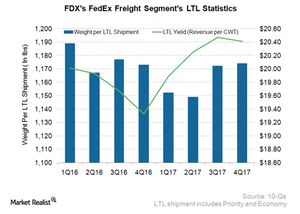 Improved Yield Led Growth in FedEx's Fiscal 4Q17 Freight Revenue
By Samuel Prince

Jun. 23 2017, Updated 9:07 a.m. ET
FedEx's Freight segment's fiscal 4Q17 revenue
Previously, we reviewed FedEx's (FDX) Ground segment's fiscal 4Q17 performance.
In this article, we'll study the company's Freight segment's fiscal 4Q17. The segment's revenue rose 5.7% to $1.7 billion in the quarter, compared to $1.6 billion in fiscal 4Q16. Better pricing and increments in LTL (less than truckload) revenue per shipment drove FDX's Freight segment's revenue in fiscal 4Q17.
Like in fiscal 3Q17, the FDX Freight segment saw a slight 0.1% fall in its average daily shipments. However, the most positive aspect was the 6% rise in LTL revenue per shipment. LTL revenue per shipment rose from $226.7 in fiscal 4Q16 to $239.6 in fiscal 4Q17. Excluding the impact of fuel surcharges, LTL revenue per shipment rose 4%.
On a yearly basis, the Freight segment's yield growth has improved due to its balance of capacity, pricing, and volume. According to FDX, this segment's revenue quality improved in the quarter.
Article continues below advertisement
Management's outlook
The Freight segment provides LTL services to all haul lengths. The segment's revenue includes revenue from FedEx's Custom Critical service. The Custom Critical service offers time-sensitive and critical shipment services in the United States.
The 4.9% rise in the FedEx Freight segment's pricing, like other divisions, improved the yield for the Freight segment. The company's changing its revision of fuel surcharges in its Freight segment to a weekly basis from a monthly basis also boosted its fiscal 4Q17 revenue.
FedEx foresees increased Freight revenue in the coming quarters. Its volume growth, improved base yield, and oversized deliveries are expected to push its Freight segment's revenue.
Investing in ETFs
Investors interested in exposure to transportation and logistics stocks, including those of airlines (DAL), railroad companies (CSX), trucking companies (JBHT), and logistics companies (UPS), may want to opt for the First Trust Industrials/Producer Durables AlphaDEX ETF (FXR). Major US airlines and railroad companies form 14% and 5.1% of FXR's portfolio holdings, respectively.
Next, we'll discuss FDX's overall operating margins and segment-by-segment margins in fiscal 4Q17.