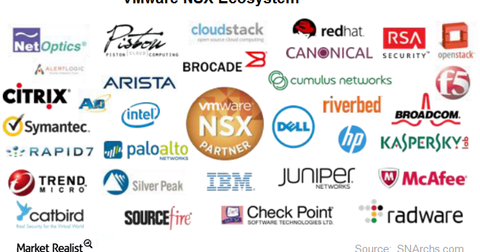 How Was VMware's NSX Performance in the Most Recent Quarter?
By Anne Shields

Updated
NSX: VMware's integral piece
Earlier in the series, we discussed the fall in VMware (VMW) stock despite its better-than-expected fiscal 1Q18 results and improved fiscal 2018 guidance. Let's see how one of its new offerings in the networking space, NSX, has performed in the most recent quarter.
According to VMware's fiscal 1Q18 earnings release, NSX's customer base rose 85.0% on a YoY (year-over-year) basis to reach 2,600. Its license bookings rose 50%.
Article continues below advertisement
According to VMware, nine out of every ten top VMware deals include NSX. Security has played a key role in NSX's adoption and revenue growth. NSX's importance to VMware's growth has been summarized by the company's CEO, Patrick Gelsinger: "It continues to be an integral piece of all of our offerings."
NSX, a part of VMware's SDDC (software-defined data center) architecture, is a virtual networking and security software platform. It's part of the VMware Cloud Foundation and the VMware Cloud on Amazon's (AMZN) Amazon Web Services, and it's therefore integral to the company's Cross-Cloud architecture.
Expected growth and competition in the SDN space
VMware's NSX operates in the SDN (software-defined networking) market. VMware's focus on the SDN space is timely, as this space is poised to grow at a CAGR (compound annual growth rate) of 53.9% between 2014 and 2020 to reach $12.5 billion by 2020, as reported by IDC (International Data Corporation) in its 2016 report.
VMware's NSX faces a threat from Cisco's (CSCO) Nexus ACI (Application Centric Infrastructure), which is a data center networking architecture designed to deliver business and other applications to end users in a cost-effective way.
Citing Wes Dawes, a senior network engineer at SugarCreek, searchsdn.techtarget.com stated that on the deployments of both NSX and ACI, Dawes preferred NSX. He said, "We were in an environment that was 99% virtualized to begin with, so NSX is the right choice for us."
Apart from VMware and Cisco, NEC, Juniper Networks (JNPR), Hewlett Packard Enterprise Company (HPE), and Alcatel-Lucent (ALU) are some of the other leading players in the SDN market.