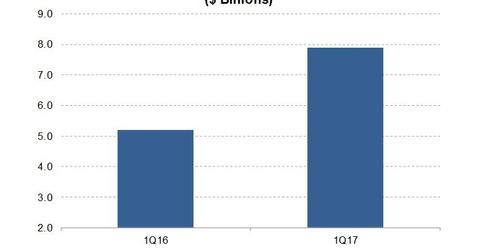 How Facebook Escaped a $276 Million Fine in Europe
By Neha Gupta

Updated
Matching social media accounts
Facebook (FB) recently settled with the European Commission the claims that the company misled the antitrust watchdog during the vetting of its proposal to acquire mobile messaging app WhatsApp.
Specifically, Facebook was faulted for claiming during the review of its deal with WhatsApp that it didn't have the technological ability to match WhatsApp accounts to accounts on its flagship app, yet the company knew that this was possible. The commission fined Facebook $122.0 million for misleading it.
Article continues below advertisement
A $122 million fine instead of $276 million
The $122.0 million fine Europe (EFA) slapped on Facebook was lenient. It turns out the European antitrust regulator decided to be soft on Facebook after the company cooperated with the proceedings. However, had Facebook not acted nicely, it could have been fined 1.0% of its annual revenue. Working with 2016 revenue of $27.6 billion, the fine would have claimed $276.0 million from the company.
The company generated total revenue of $8.03 billion in 1Q17, with most of it coming from advertising. It reported advertising sales of $7.9 billion in 1Q17, up 51.0% from a year earlier. Serving targeted advertisements is a lucrative business for Facebook, but it bears regulatory risks.
Facebook faces more hurdles in Europe