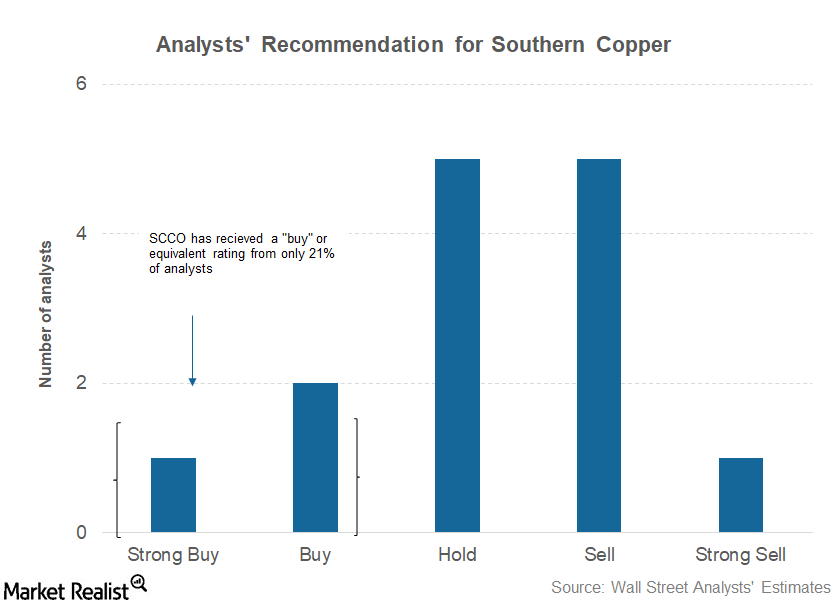 How Are Analysts Rating Southern Copper in 2Q17?
Analyst ratings
Southern Copper has received a "buy" or equivalent rating from only three of the 13 analysts surveyed by Thomson Reuters. Five analysts have given SCCO a "hold" rating, and the remaining six analysts have given it a "sell" or equivalent. Southern Copper has the highest percentage of "sell" recommendations among the stocks that we're covering in this series.
Southern Copper has a consensus one-year price target of $36.55, which represents a 4.8% upside over its June 23, 2017, closing price. There have been no major analyst actions in June. Previously, on May 30, 2017, JPMorgan cut Southern Copper's target price from $42 to $39.
Article continues below advertisement
2Q17 earnings estimates
Southern Copper is expected to post revenues of $1.53 billion in 2Q17. It posted revenues of $1.58 billion in 1Q17 and $1.34 billion in 2Q16. However, the company's adjusted EBITDA (earnings before interest, tax, depreciation, and amortization) is expected to rise to $751.0 million in 2Q17 compared to $713.0 million in 1Q17.
The sequential increase in Southern Copper's 2Q17 EBITDA despite lower copper prices (DBB) could be led by lower production costs in the quarter. The company's 1Q17 unit cash cost before by-product credit rose slightly compared to 4Q16 on higher fuel and labor costs.
In the next part, we'll see how analysts are rating Glencore (GLNCY).