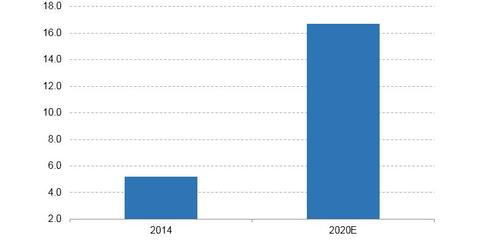 How Alphabet's YouTube's Ad Boycotters Fared
By Ruchi Gupta

Updated
A double-edged sword
Several major brands yanked their ads from Alphabet's (GOOGL) YouTube platform after they discovered that they'd been appearing next to clips promoting extremist views. Google, which runs YouTube, promised to fix the problem.
However, boycotting YouTube ads could be a double-edged sword. While the boycott could cause advertising revenue losses at Google, the brands pulling their ads could also suffer missed opportunities to connect with customers. Digital video advertising is on the rise as marketers pursue the young audience that's spending more time online on video platforms such as YouTube.
Article continues below advertisement
YouTube revenue expected to rise 26%
In a prediction issued before the boycott started, research company eMarketer estimated that YouTube's revenue would rise 26.0% to $7.0 billion in 2017. The ad boycott by major brands could make it difficult for YouTube to live up to this expectation. The US digital video ad market is expected to expand to $16.7 billion by 2020, compared to $5.2 billion in 2014.
The brands pulling ads from YouTube could feel the pinch. Let's take a look at how the big advertisers that announced they were suspending YouTube ads fared in 1Q17. Keep in mind that the YouTube ad boycott was spreading just as 1Q17 was nearly at its end. However, a look at the performances of these brands can offer clues about their advertising needs.
Scorecard of YouTube ad boycotters
Verizon (VZ) lost thousands of postpaid phone customers in 1Q17. It reported a revenue fall of 7.4% compared to a year earlier, and it missed consensus estimates on both the revenue and earnings fronts. AT&T (T) met earnings expectations in 1Q17, but its revenue of $39.4 billion fell 2.8% compared to a year earlier and fell short of consensus estimates by ~$1.2 billion.
Johnson & Johnson (JNJ) reported a 1.7% revenue rise in 1Q17, but this figure still missed the consensus estimate by ~$240.0 million. Walmart (WMT) beat earnings expectations and posted revenue growth of 1.4% in 1Q17, but it still missed its top line estimate by ~$240.0 million.