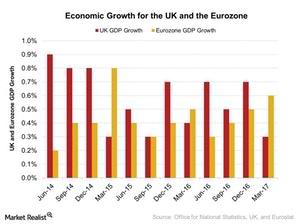 George Soros: 'Brexit Is a Lose-Lose Proposition'
By Sarah Sands

Updated
United Kingdom's economy
According to legendary investor George Soros, Brexit is going to impact the United Kingdom (EWU) and the European Union (EZU) (VGK) (IEV).
He wrote, "the fact is that Brexit is a lose-lose proposition, harmful both to Britain and the European Union. It cannot be undone, but people can change their minds. Apparently, this is happening."
Article continues below advertisement
GDP growth
The United Kingdom's economy posted a growth rate of 0.3% in 1Q17. The growth rate was much lower compared to previous quarters. However, the growth figure for the Eurozone's economy showed a different picture. Since 2Q16, the Eurozone's growth rate has been improving gradually. The Eurozone's major economic indicators such as the manufacturing PMI (purchasing managers' index), the services PMI, the business sentiment index, and the inflation index are also improving gradually.
However, major institutions think that Brexit could be tough on the United Kingdom's economy. According to the Organisation for Economic Cooperation and Development, the baseline impact could be -1.3%, -3.3%, and -2.5% on the United Kingdom's real GDP in 2018, 2020, and 2023, respectively.
The United Kingdom's consumer spending index is faltering. In 1Q17, it stood at 310.222 billion pounds—compared to 309.169 billion pounds in 4Q16. There was a very marginal improvement in the index. Weaker consumer spending is a major concern for the economy. Britain's exit from the European Union could impact trade relations between these two regions, which is a bigger concern for investors.
To learn more, read Brexit's Cracks Beginning to Show as British Pound Collapses.