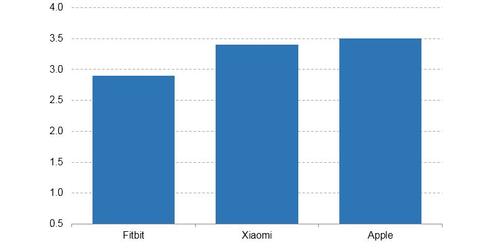 Dual Manufacturers for the Apple Watch Tell a Story
By Ruchi Gupta

Updated
Sleep tracking for the Apple Watch 3
Apple (AAPL) is expected to launch its third-generation Apple Watch, the Apple Watch Series 3, in the latter half of 2017, according to leaks cited by DigiTimes.
Rumors have also claimed that Apple will ship the Apple Watch Series 3 with a faster processor, a more advanced display, and more functions, including the ability to track blood glucose levels and monitor sleep.
According to Strategy Analytics, Apple was the top Smartwatch vendor in 1Q17, shipping 3.5 million units, compared to 3.4 million units for China's (MCHI) Xiaomi and 2.9 million units for Fitbit (FIT). The global Smartwatch market is projected to be worth $32.9 billion by 2020, according to Allied Market Research.
Article continues below advertisement
New manufacturer joins the Apple Watch supply chain
A report by DigiTimes that Apple has tapped two manufacturers to produce the Apple Watch seems to be the most telling of the leaks that have surfaced about the gadget. According to the report, a contract manufacturer called Compal Electronics has joined the Apple Watch supply chain, and it will be in charge of producing the Apple Watch Series 2.
Quanta Computer, which has been the sole Apple Watch manufacturer until now, will concentrate on producing the Apple Watch Series 3.
Why dual manufacturers?
If the report is accurate, the move to bring dual manufacturers to the Apple Watch supply chain could send several messages. The move could indicate that Apple anticipates strong demand for its watch and wants to avoid product supply shortages. It could also imply that the upcoming watch model will command a hefty price and that Apple wants to keep the older model on the market to provide customers with a choice.
Apple is vying for the Smartwatch market against competitors Samsung (SSNLF) and Garmin (GRMN).