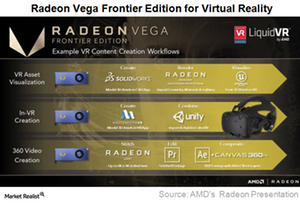 Did AMD's Vega Outperform NVIDIA's Titan XP in VR Content Creation?
By Puja Tayal

Jul. 3 2017, Updated 1:10 p.m. ET
Application of Vega GPU
In the previous part of the series, we saw that Advanced Micro Devices' (AMD) Vega Frontier Edition is designed for VR (virtual reality) game development, advanced design visualization, and deep learning algorithms. This is because the new Vega GPU (graphics processing unit) is supported by AMD's ROCm open software platform, machine learning libraries, and advanced visualization tools.
AMD claims that the Vega GPU can deploy real-time visualization and physics-based rendering and support all stages of VR game development from asset production to play-testing to performance optimization.
Article continues below advertisement
PC World tests Vega's performance in VR content creation
PC World tested AMD's Radeon Vega Frontier air-cooled version with NVIDIA's (NVDA) GeForce Titan XP for OpenGL workflows, the most widely used open graphics standard. It used two identical Pro PCs featuring Microsoft's (MSFT) Windows 10, AMD's Ryzen 7 1800X CPUs (central processing unit), 32 GB (gigabyte) of DDR4 RAM (random access memory), Dell's 8K display, a 1080p display plus, and a HTC Vive VR headset.
The test results showed that Vega outperformed Titan XP in SolidWorks by 50% in 3D rendering package Catia by 28%, and Maxon's Cinebench OpenGL benchmark by 14%. Other third party tests also showed similar results. However, PC World didn't find any performance difference between the two GPUs in Direct X gaming and similar applications.
In its test reports, PC World stated that AMD's Radeon Vega Frontier is designed for commercial workflows, while NVIDIA's GeForce Titan XP is designed for consumer use. Although the two GPUs are priced at around $1,200, the test wasn't really comparing apples with apples. A better comparison for Vega Pro is NVIDIA's Pascal-based Quadro Pro GPUs, which are priced between $2,000 and $6,000.
Apart from VR content development, the Vega Frontier Edition is also capable of performing deep learning algorithms. AMD tested the Vega GPU for these applications. We'll look at the test results in the next part of the series.