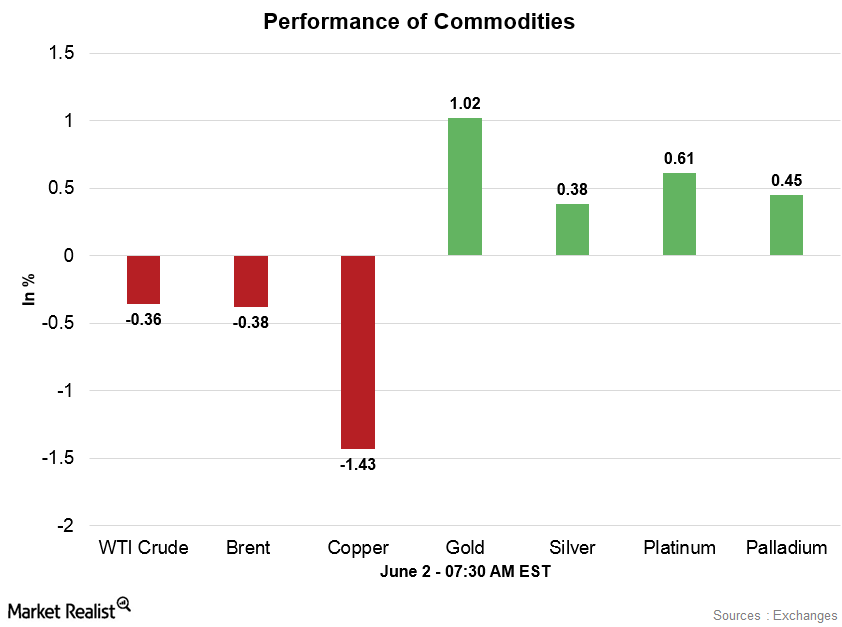 Commodities Are Mixed, Crude Oil Fell amid Middle East Concerns
Crude oil
After falling for two consecutive trading days, crude oil prices fell on Monday and started the week on a weaker note. In the early hours on June 6, crude oil prices are stable and trading at three-week low price levels.
The market sentiment has been weaker since the end of the week amid the disappointing supply cut extension. The supply cut agreement was extended by nine months. However, no deeper cuts were announced. On Tuesday, the crude oil market is weaker amid political concerns in the Middle East. Accusing Qatar of supporting Iran and Islamic militants, three of the Persian Gulf states and Saudi Arabia cut their ties with Qatar, which led to concerns in the crude oil market. The events raised doubts that producers might not stick to the production cuts. The market is looking forward the American Petroleum Institute and U.S. Energy Information Administration's crude oil inventory data scheduled to release on June 6 and 7, respectively.
Article continues below advertisement
At 7:00 AM EST, West Texas Intermediate crude oil futures contracts for July 2017 delivery were trading at $47.41 per barrel—a gain of ~0.02%. Brent crude futures contracts for August 2017 delivery rose ~0.04% and were trading at $49.49 per barrel. The SPDR S&P Oil & Gas Exploration & Production ETF (XOP) closed at $32.22 after falling 0.31% on June 5.
Metals
After starting the week on a weaker note, copper prices are weaker on June 6. In the early hours on Tuesday, copper fell below $2.55 and traded at the lowest levels in five weeks. Concerns about demand trends from China amid the mixed manufacturing PMI reading released last week dented the sentiment in copper. The rise in Shanghai copper inventories also weighed on copper. The PowerShares DB Base Metals ETF (DBB) fell 1.3%, while the SPDR S&P Metals & Mining ETF (XME) rose 1.1% on June 5.
Gold (GLD) and silver (SLW) are strong in the early hours on Tuesday. Weaker-than-expected US jobs data were released last week. There's decreased risk appetite in the market amid European elections this week. Platinum and palladium are strong in early hours on Tuesday.