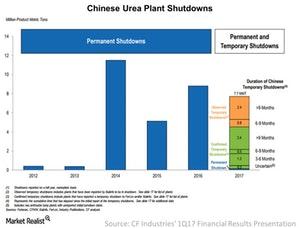 Why Chinese Urea Capacity Is Shutting Down
By Adam Jones

Updated
Chinese urea producers
Earlier in this series, we discussed the cost curve for urea fertilizer and how it impacts urea's market price. Most of the higher-cost producers on the cost curve are primarily located in China, which uses natural gas and coal as energy sources for production.
While energy costs are relatively high for Chinese producers, freight and load costs have also increased their costs of production.
Article continues below advertisement
Capacity shutdowns
For any business, it's unsustainable to sell at or below the cost of production for a long time, as this would eventually lead to a shutdown of operations, either temporarily or permanently.
In the chart above, we can see the urea capacity shutdowns that have taken place in China over the past five years and many of the permanent shutdowns that have taken place over the last three years. We can also see that the shutdowns that have taken place in 2017, whether temporary or permanent, have been similar to the shutdowns that happened in 2016.
Why the shutdowns?
The demand for nitrogen fertilizers (XLB) remains robust, as we can see in the latest earnings releases of CF Industries, PotashCorp (POT), Agrium (AGU), and Terra Nitrogen (TNH). Many of these permanent capacity shutdowns appear to be due to replacements by lower-cost projects. As for temporary shutdowns, producers may be waiting for urea prices to rise in the near future.