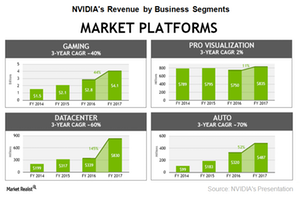 Can NVIDIA's Strong Growth Momentum Continue in Fiscal 2018?
NVIDIA's growth momentum continues
As we move toward a data-centric world, the demand for computing power is growing. The technology industry (QQQ) is transitioning from microprocessor computing to GPU (graphics processing unit) accelerated computing as Moore's law slows.
Moore's law states that the number of transistors in a microprocessor would double every two years, improving its performance and power efficiency and reducing the cost of manufacturing.
Article continues below advertisement
NVIDIA (NVDA) is at the epicenter of the GPU-accelerated computing trend and has seen strong growth momentum for more than a year. The company is in the early stage of the artificial intelligence and self-driving cars supercycle. This is visible from NVIDIA's 60% and 70% CAGR[1. compound annual growth rate] in its Data Center and Automotive segments, respectively, between fiscal 2014–2017.
NVIDIA's stock price
NVIDIA's strong growth saw its stock price increase almost sevenfold in the last three years to ~$150. Investors were concerned that the company may not be able to sustain this growth momentum, but the company raised investors' optimism at its 2017 Investor Day in May.
NVIDIA's earnings
Over the past three years, NVIDIA's revenues have grown at a CAGR of 20%, mostly driven by strong demand from gaming consumers. More gamers are switching to PC gaming as the popularity of e-sports and AAA games increases. Gaming has long been NVIDIA's core business, with the company commanding a 72.5% share of the add-in graphics board market in 1Q17, according to Jon Peddie Research.
However, fiscal 2017[1. fiscal 2017 ended April 29, 2016] was a year of AI (artificial intelligence) as NVIDIA witnessed 145% YoY (year-over-year) growth in its Data Center revenues. This growth is likely to continue as cloud service providers, high-performance computing companies, and enterprises adopt GPUs for their AI tasks.
Rivals are looking to compete with NVIDIA in the AI market—Advanced Micro Devices (AMD) with its new Vega GPU, Intel (INTC) with its FPGA (field-programmable gate array) integrated Xeon Phi processors, and Google (GOOG) with its TPU (tensor processing unit).
However, NVIDIA has a technology advantage over its competitors, as it has been in the AI market for more than six years. Its rivals have been in this market for only two years.
While the AI momentum has started, autonomous car momentum has yet to begin, with Tesla (TSLA) releasing its cars equipped with NVIDIA's automotive AI platform DRIVE PX 2 at the end of fiscal 2018.
In this series, we'll see how these factors could drive NVIDIA's earnings in fiscal 2018.