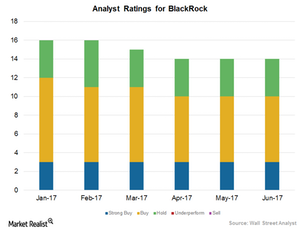 BlackRock on the Street: Analyst Ratings, Macro Concerns
By Robert Karr

Updated
Analyst ratings for BlackRock
So far in June 2017, ten of the 14 analysts covering BlackRock (BLK) have rated the stock as a "strong buy" or "buy." Four analysts have rated it as "hold." The stock's mean price target has fallen marginally to $429 per share, implying a 1% rise from its current level.
The company's ratings have remained stable over the past three months, mainly due to mixed signals from higher ETFs flows and performances, offset by a decline in the broader market performance. As compared to March 2017, only one analyst is no longer covering the stock—one who had previously given the stock a "buy" rating.
Relative outperformance
By comparison, six of 20 analysts have given State Street (STT) "buy" or "strong buy" ratings, reflecting the relatively weak upside potential for the stock. Another 13 analysts have rated the stock as a "hold," and one analyst has rated it as an "underperform."
Three of 15 analysts have given T. Rowe Price Group (TROW) "buy" or "strong buy" ratings. Nine analysts have given it "hold" ratings, and three analysts have given it "underperform" ratings.
For Bank of New York Mellon (BK), eight of 20 analysts have recommended "buys" or "strong buys," while ten have recommended "holds." Another two analysts have given it an "underperform" rating.
Together, BlackRock's peers account for 9.0% of the Vanguard Financials ETF (VFH).
Article continues below advertisement