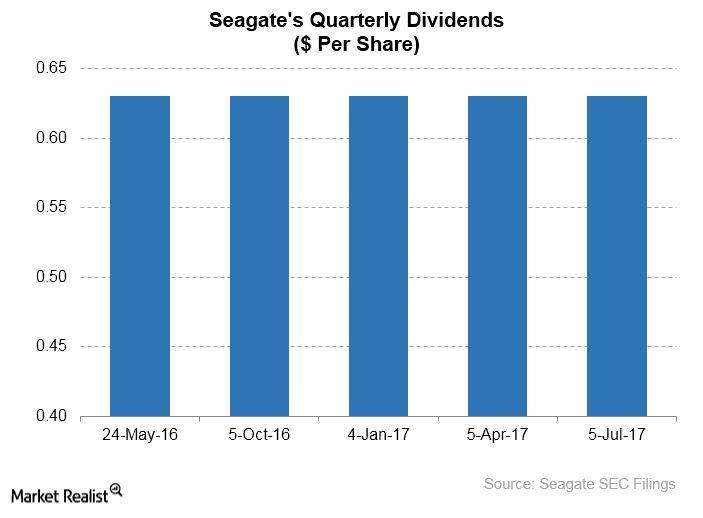 What's the Future of Dividends at Seagate?
By Ruchi Gupta

May. 2 2017, Updated 5:05 p.m. ET
Question of dividend security
Seagate (STX) pays dividends to its shareholders as one of the ways to return value to investors. That's why after all is said and done about its mixed fiscal 3Q17 report, for income investors, the most important question is whether the company can keep dividends flowing.
To get a clue about the future of Seagate's dividends, let's turn our focus to the company's financial stability.
So where's the cash? Seagate finished its latest quarter with cash and cash equivalents of ~$3.0 billion, significantly more than its cash of $1.7 billion at the beginning of the quarter. Where did this cash come from? Seagate managed to squeeze $426.0 million from its operations during the quarter, surprising analysts, who had been expecting cash from operations of just $340.6 million.
Seagate's cash position also got a boost from the $1.3 billion in debt it raised in the quarter. The company seems to be standing on solid financial ground because it reported that the current portion of its long-term debt was only $158 million.
Article continues below advertisement
Funneling 50% of free cash back to shareholders
The boost from its debt aside, Seagate's $426 million in cash flow from operations should help it to meet its debt obligations and sustain its dividends. With strong free cash flow, Seagate will not only keep dividends coming but also reinvest in more growth to secure future dividends. The company has a long-term target of returning up to 50% of its free cash flow to shareholders.
Seagate distributed $186 million in cash dividends in fiscal 3Q17, and its board has approved a new dividend of $0.63. The graph above shows the company's quarterly dividend distribution.