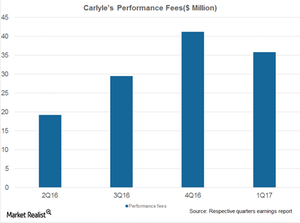 What's Happening Now with Carlyle's Investment Solutions Segment?
Investment solutions: a promising segment?
Carlyle Group (CG) raised new capital of $3 billion in 1Q17, which included $1.4 billion from its Investment Solutions segment and $1 billion from Real Assets. Carlyle has a positive outlook for the remainder of 2017 for fundraising, but the company's fundraising will be more inclined toward real estate assets.
The company's fundraising through the AlpInvest Secondaries program in 1Q17 reached $6.5 billion, and the raising of a new secondary fund is now underway. Investment solutions should constitute 15% of the company's $100-billion efforts in fundraising. Due to its concentrated approach to private close-end fund investing, CG has seen stronger fundraising and an improved financial performance in its Investment Solutions segment.
Article continues below advertisement
AlpInvest partners completes fundraising
CG's dedicated co-investment and primary fund has raised $6.5 billion for ASP VI (AlpInvest Secondaries Program VI), beating the target of $6 billion. Of this $6.5 billion, $3.3 billion is committed to ASF VI (AlpInvest Secondaries Fund VI), and the rest went to investors in separately managed accounts.
Global uncertainties should now be creating new opportunities, and the company is planning to pursue investment opportunities in the private equity secondary market. ASP VI will be seeking acquisitions in existing private equity.
A fall in total revenues
CG's revenues from the Investment Solutions segment fell from $78.6 million in 4Q16 to $73 million in 1Q17. This fall was mainly due to lower income of $35.8 million 1Q17, as compared to $41.2 million in 4Q16. The segment's carry fund portfolio rose 3% in 1Q17.
Notably, Blackstone (BX), Apollo Global Management (APO), and KKR (KKR) together make up 4.67% of the PowerShares Global Listed Private Equity ETF (PSP).