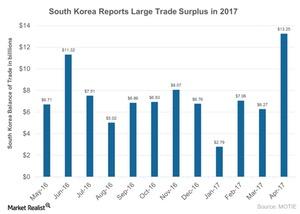 South Korea Records Trade Surplus amid Geopolitical Uncertainty
By Mary Sadler

Updated
Reliance on external sector
The South Korean (EWY) economy is heavily reliant on the external sector. In 2015, it was the fifth-largest export economy (DBKO) in the world, according to the ECI (economic complexity index). China (FXI) is its largest trading partner, as the countries share a sea border.
In April 2017, South Korea recorded a larger trade surplus than it did in April 2016. South Korean trade seems to have been undeterred by geopolitical tensions so far in 2017, based on the consistent surpluses in its trade balance and positive macroeconomic factors. Let's look at South Korea's trade balance over the last year.
Article continues below advertisement
South Korea's trade balance
South Korea's trade surplus rose to $13.3 billion in April 2017, compared with $8.7 billion in April 2016. Due to exports increasing more than imports, it was the largest trade surplus recorded in the last six years. Sales rose 24.2% in April 2017 from $51.0 billion the year prior. They had risen 13.7% in the previous month. It was the sixth consecutive month of growth, and the fastest growth in six years.
Imports rose 16.6% to $37.8 billion, compared with a 26.9% gain in the previous month. Exports are expected to rise in 2017 due to improving global demand. South Korea's trade balance has remained in positive territory for the last four years.
South Korea's US ties
Earlier in 2017, President Donald Trump stated that the United States would renegotiate or cancel free trade. This is likely to impact South Korea's export-reliant economy. Investors should watch for news on ties between the two nations. In the next article, we'll look at South Korea's manufacturing activity.