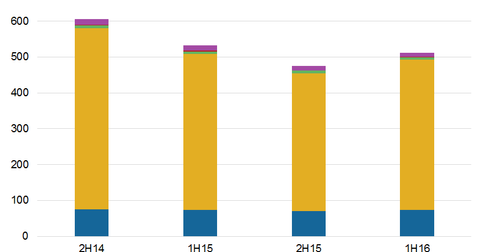 Regulators' Argument in Favor of the Dodd-Frank Act
By Robert Karr

Updated
Regulators' argument
The Dodd-Frank Act brought stringent regulations for financial giants after the financial crisis in 2007. Regulators and economists who were in favor of controlling financial institutions' risk-taking capacity—including banks (XLF) and insurance companies—through the Dodd-Frank Act, think that repealing the law will bring back a similar level of risk-taking behavior that was witnessed during 2003–2007. Repealing the Dodd-Frank Act would undo requirements of maintaining higher capital adequacy ratios among financial institutions. Repealing the act would bring back the possibility of more risk among too-big-to-fail entities. Large financial institutions are believed to be behind the Trump Administration's decision to look into the Dodd-Frank Act. Large financial institutions have always preferred fewer regulations and businesses with higher risk.
Article continues below advertisement
SWAPS
Regulators backing the Dodd-Frank Act have been primarily concerned about trading SWAPS and other derivative products over the counter among investors and financial institutions. These products didn't come under regulation purview before the Dodd-Frank Act. The trading of trillion dollar market derivative products like credit default swaps and credit default obligations were excluded from any regulation.
Volcker Rule
The Dodd-Frank Act also stated the important Volcker Rule, which didn't allow propriety trading by commercial banks (XLF). Financial institutions were fined for taking a position opposite to what they advised their clients. Major banks like Bank of America (BAC), JPMorgan Chase (JPM), Citigroup (C), and Goldman Sachs (GS) reduced their exposure towards derivative products like credit default swaps and credit default obligation over the past few years. However, regulators think that repealing the Dodd-Frank Act could bring back similar levels of risk-taking behavior in the next few years.