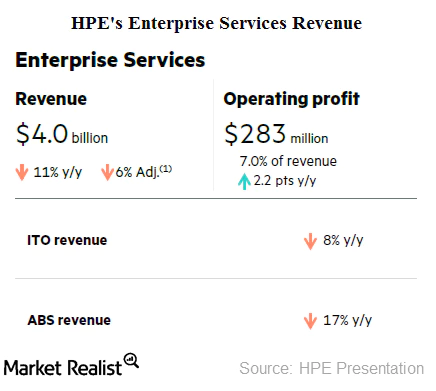 Micro Focus Wary about Decline in HPE's Software Revenue
HPE spinoff with Micro Focus
Last September, US-based (SPY) tech (QQQ) firm Hewlett Packard Enterprise (HPE) announced the spinoff and merger of its non-core software assets with the UK-based Micro Focus. HPE's non-core software assets include the company's application delivery management, enterprise security, big data, IT (information technology) operations management, information management, and governance businesses. According to HPE, this transaction is valued at $8.8 billion. HPE will own 50.1% of the new combined company.
Article continues below advertisement
Micro Focus disappointed with HPE's declining revenue
Micro Focus stated that it is disappointed because according to preliminary estimates, Hewlett Packard Enterprises' (HPE) software revenue fell 10% YoY (year-over-year) in the quarter ended April 30, 2017. The deal between Micro Focus and HPE is expected to be completed by September this year.
Micro Focus's executive chair, Kevin Loosemore, stated, "We are encouraged by the early progress that HPE Software's management are making on implementing operational efficiencies and the speed of change in the business. Whilst the short-term decline in license is disappointing it is not unusual given the level of change being undertaken."
Micro Focus stock has risen over 30% since the spinoff with HPE was announced last year. Analysts and investors expect Micro Focus to cut costs and improve profitability with HPE's business based on the firm's ability to do so in the past.