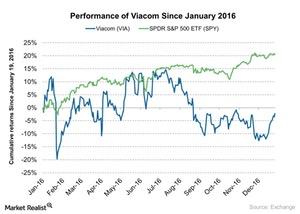 Why Mario Gabelli Is Investing in Media and Telecom Companies
Mario Gabelli's view on the media sector
Mario Gabelli is optimistic about the media, cable, and telecom industries. He has made huge investments in various companies in these industries.
He believes all these sectors have significant potential and could provide handsome returns given the current economic environment in the US (QQQ) (VFINX) (IWM) (SPY) (SPX-INDEX) (DIA). Under a Trump presidency, the media sector might get significant attention. Gabelli is also a big fan of entertainment stocks.
Gabelli said that customers mainly want three things from the telecom and cable industry: voice, video, and data. The demand for these three services is growing day by day. The innovation of new products in the telecom and cable industry will be an important driver for companies in the sector.
Article continues below advertisement
Mario Gabelli's investment
Gabelli is a huge investor in Viacom (VIA). According to an institutional ownership report, Gamco Investors is the largest investor in Viacom with about 3.0 million shares as of March 31, 2017. Gabelli Funds is the second-largest investor in Viacom with about 1.8 million shares as of March 31, 2017. These figures show how optimistic Gabelli is about Viacom, and Gabelli believes that the company has strong assets around the world. The company's new production strategy could be a change for the media sector.
Gabelli also said that he has made investments in various companies such as Comcast (CCV), Walt Disney (DIS), and AT&T (T).
You may be interested to read, Mark Cuban's Position in Twitter.