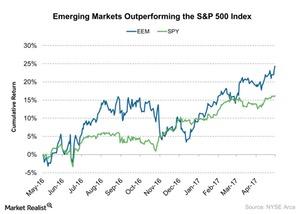 Gundlach to Investors: Long Emerging Market, Short S&P 500
By Sarah Sands

Updated
Jeffrey Gundlach at the 2017 Sohn Investment Conference
Jeffrey Gundlach, billionaire investor and CEO (chief executive officer) and chief investment officer of DoubleLine Capital, shared his views on the current market environment at the 2017 Sohn Investment Conference on Monday, May 8, 2017.
Article continues below advertisement
Gundlach's investment ideas
Gundlach advised investors to go long on emerging markets (EEM) and short on US stocks. He's specifically long on the iShares MSCI Emerging Markets (EEM) and short on the SPDR S&P 500 ETF (SPY).
The dollar index has been strong since 2011. According to Gundlach, a stronger dollar (UUP) could be a problem for emerging markets. As the Fed continues its gradual rate hike process, the dollar index will strengthen. But Gundlach believes this risk could be overstated.
Gundlach said, "When emerging markets outperform the S&P 500, active is outperforming the S&P 500." His statement indicates that he doesn't believe in the passive investment strategy. Going forward in this series, we'll analyze why he believes a passive investment strategy doesn't work.
He also said that the valuation of emerging markets (VWO) is half the valuation of the S&P 500 Index (IWM) (QQQ). He's mainly focusing on the price-to-sales and price-to-book value ratios of the S&P 500, which indicates a higher valuation compared to emerging markets. He also said that his investment decision is based on the funds flow to the active and passive management strategy.
The iShares MSCI Emerging Markets (EEM), which tracks the performance of emerging markets, returned nearly 15.3% on a year-to-date basis as of May 9, 2017. The S&P 500 Index returned nearly 7.1% over the same period.
In the next part of this series, we'll analyze Gundlach's view on a passive investment strategy.