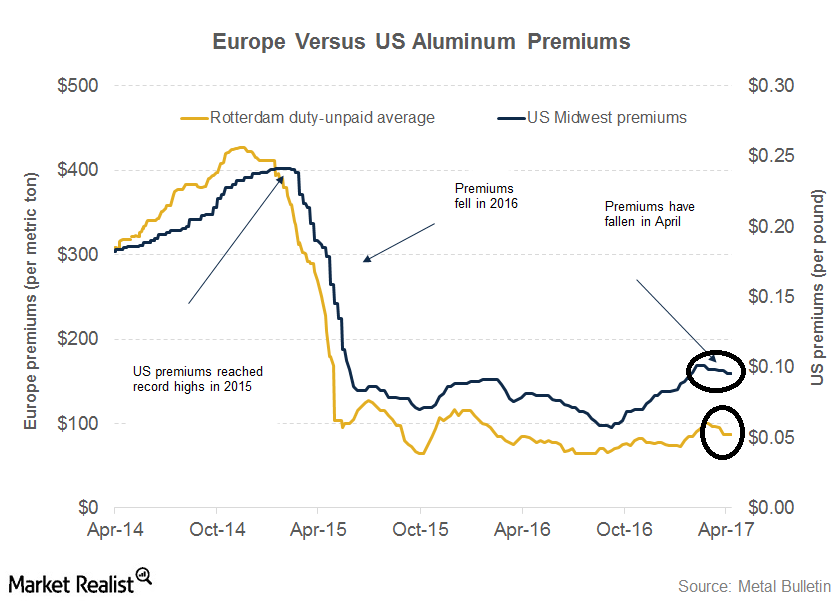 Is the Physical Aluminum Market Really Tightening?
Physical aluminum market
Previously in this series, we saw that aluminum prices have risen significantly from their January 2016 lows on better-than-expected demand and lower Chinese aluminum exports. Plus, falling official inventories suggest a tightening physical market.
As we noted in the previous part, Alcoa's valuation multiples don't reflect the current aluminum pricing environment. Let's look at the possible reason for this divergence between aluminum and Alcoa's price action.
Article continues below advertisement
Delivery premiums
It's important to note that the all-in aluminum price consists of the aluminum price plus regional aluminum premiums. The aluminum premium is a surcharge that consumers must pay on top of the prevailing prices in order to take immediate delivery of the metal from the warehouses.
Premiums are decided between aluminum buyers and sellers. This procedure is unlike aluminum prices that are decided on the exchange, which is generally dominated by financial market participants. Alcoa (AA) sees physical aluminum premiums as a better reflection of the aluminum industry's dynamics than aluminum prices (CENX) (RIO).
Premiums have weakened
The chart above shows the movement in European and US Midwest aluminum premiums, as reported by Metal Bulletin. Aluminum premiums have weakened in Europe in March. Even the US Midwest aluminum premiums have fallen slightly.
There seems to be a disconnect between physical aluminum markets and aluminum prices (NHYDY) (DBB). If aluminum markets are indeed strong, we should see an increase in premiums. However, without an increase, we could see a decline in physical premiums.
The divergence between delivery premiums and aluminum prices shows that physical market participants don't necessarily share the same optimism as financial market participants. However, for metals, physical demand is the key driver on a medium- to long-term basis. Weak sentiment in physical aluminum markets could be a reason behind the divergence between Alcoa (AA) and aluminum prices.
You can also visit our Aluminum page for ongoing updates on this industry.