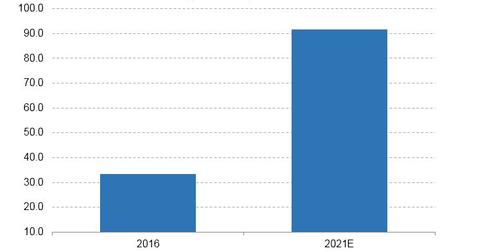 HPE Goes Nimble in the Hybrid IT Market
By Ruchi Gupta

Updated
Eye on hybrid IT market
Hewlett Packard Enterprise (HPE) is trying to strengthen its foothold in the fast-growing hybrid IT market. Since separating from its printer and computer–oriented sibling Hewlett-Packard (HPQ) in 2015, HPE has tapped several startups and upstarts with strategic technologies to bolster its competition in enterprise IT fields such as storage, networking, and software-defined servers.
One of the notable buyouts the company has recently completed is that of storage and analytics provider Nimble Storage. The deal is notable because of the high premium HPE paid for the asset. HPE paid $12.50 for each share of Nimble, implying a 45.3% premium on the stock's closing price just before the deal was announced.
Article continues below advertisement
What does a Nimble HPE look like?
Hybrid IT is a fast-growing market. According to research firm MarketsandMarkets, the worldwide hybrid cloud market could be worth ~$91.7 billion by 2021, up from $33.3 billion in 2016, as illustrated in the chart above.
Nimble is bringing a lot to the table to help HPE in its mission of conquering this market. First, it's bringing more enterprise customers to HPE. More than 10,000 enterprises rely on its storage and analytics solutions. It is also bringing a huge pool of talent to HPE.
Potentially multipurpose technology
Nimble Storage's technology helps enterprises gain more insight into their storage consumption, as well as to make informed decisions on their storage needs. This technology could help HPE to accelerate its penetration of the hybrid IT market, as well as to bolster its competition against rivals like NetApp (NTAP), IBM (IBM), and Dell Technologies (DVMT) in other IT services fields.