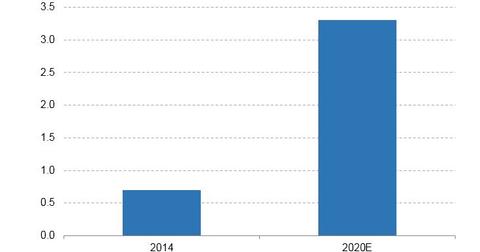 How Microsoft Is Pursuing the Lane between VR and AR
By Ruchi Gupta

Updated
Mixed reality coming to challenge virtual reality
Microsoft (MSFT) has mostly kept its AR (augmented reality) headset, HoloLens, as a developer product. However, the tech giant is starting to reach out to the masses with a technology that delivers the HoloLens experience and more. However, its moves could rattle Facebook (FB) and Sony (SNE), who are trying to dominate the VR (virtual reality) market.
Microsoft is taking the MR (mixed reality) experience to the masses. MR sits somewhere between AR and VR in that it cuts you off from the physical world but allows you to interact with digital items like software.
Article continues below advertisement
A $12.3 billion opportunity for VR alone
HoloLens keeps its users in their physical environment where they can interact with virtual objects. On the other hand, VR devices sold by Sony and HTC, as well as Facebook's Oculus, totally immerse the user in a virtual world. 
The global market for VR systems alone is projected to grow to $12.3 billion by 2018 from less than $1.0 billion in 2015, according to SuperData. Including AR and MR, the market opportunity for these newer computing platforms could be enormous.
Modestly priced headsets
Microsoft's MR partners include Acer, Lenovo, Asus, and Hewlett-Packard (HPQ). Acer was the first of these partners to show off its Windows-ready MR headset, which was priced at $300. Microsoft's HoloLens costs ten times that, with a $3,000 price tag. Complete VR systems by Facebook and Sony cost ~$1,000.
Aside from the modest price, Acer's MR headset is also less dependent on wiring. Users just need to tether it to a Windows laptop, and they're ready to go.
Reclaiming lost Windows glory
For Microsoft, the mission doesn't seem to be on profiting from building AR or MR hardware. Instead, the company could use such emerging computing platforms to make Windows ubiquitous again, particularly since Windows lost out to Android and Apple's (AAPL) iOS in the mobile race.