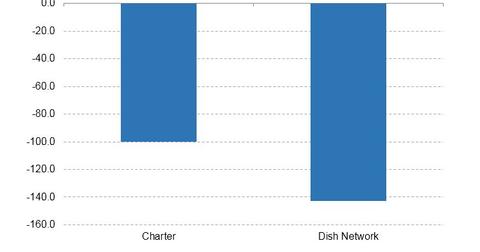 Here's What Charter Communications Thinks about OTT
By Ruchi Gupta

Updated
No value yet in streaming video
Despite reporting the loss of thousands of residential pay-TV customers in 1Q17, Charter Communications (CHTR) says it has no immediate plans to join the streaming video bandwagon. Its peers Dish Network (DISH) and AT&T (T) have responded to the disruption of over-the-top video (or OTT) by launching their own streaming video services to take on Netflix (NFLX) and Amazon (AMZN).
Why isn't Charter Communications interested in following suit? It all comes down to value.
Article continues below advertisement
According to Tom Rutledge, the CEO of Charter Communications, the company hasn't seen meaningful value in OTT. The company observed that OTT video is eating into its pay-TV subscribers, similar to the subscriber loss experienced by Dish Network and other companies that have joined the Internet television bandwagon.
However, Charter Communications is keeping its options open. If it can see some meaningful value, it may consider challenging its competition with its own streaming service.
CHTR bleeds 100,000 video customers
Charter Communications (CHTR) reported a loss of 100,000 pay-TV subscribers in 1Q17, compared with 143,000 pay-TV customers that its rival Dish Network reported lost in 1Q17.
However, Charter Communications said it gained 428,000 broadband subscribers in the latest quarter, which helped lift its Internet sales nearly 12.0%.
1Q17 falls short of target
Charter Communications (CHTR) reported 1Q17 earnings that improved significantly from 1Q16, helped by the acquisition of Time Warner Cable and Bright House Communications. However, those results still fell short of analysts' average estimates.
CHTR's revenues of $10.2 billion increased 301.7% from 1Q16 on actual value, but it missed its consensus estimate of $10.3 billion. On a pro forma basis, its revenues were up 4.3% from 1Q16. The company's net income of $155 million (or $0.57 per share) compared with a net loss of $188 million (or $1.86 per share) in 1Q16. Analysts were expecting earnings of $0.91 per share.