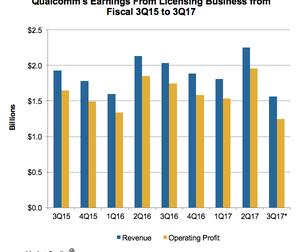 Fiscal 3Q17 Won't Be Great for Qualcomm Technology Licensing
By Puja Tayal

Updated
QTL's fiscal 3Q17 guidance
So far, Qualcomm's (QCOM) licensing business hasn't been affected by the legal cases surrounding some of its licensing agreements. 
However, QTL (Qualcomm Technology Licensing) will likely take a hit in fiscal 3Q17 as it refunds licensing fees to BlackBerry (BBRY) and Apple (AAPL) stalls its royalty payments.
The fiscal third quarter tends to be a weak one for QTL. It includes royalty payments on devices sold in the fiscal second quarter. However, QTL's fiscal 3Q17 earnings are expected to fall more than usual due to the legal cases surrounding its licensing.
Article continues below advertisement
Fiscal 3Q17 revenue guidance
For fiscal 3Q17, QTL expects the total reported device sales of its licensees to be between $59 billion and $67 billion. Qualcomm expects to report $5.2 billion in revenue in fiscal 3Q17 after deducting all disputed licensing payments.
Assuming QTL continues to contribute 30% toward Qualcomm's total revenue, the segment's revenue is expected to fall 30.7% sequentially to $1.6 billion, far more than the normal seasonal fall of 4%–5%. In dollar terms, a 30.7% fall marks a reduction of $690 million, of which $500 million will come from Apple's lack of a royalty payment. The quarter's $1.6 billion in revenue represents a 23% YoY (year-over-year) fall.
Fiscal 3Q17 profit guidance
For the past two years, QTL has maintained its operating margin at 84% and above. Taking a more conservative approach, QTL is expected to report an operating margin of 80%, which equates to $1.2 billion.
Over the long term, Qualcomm's licensing revenue will grow as its adoption of IoT (Internet of Things) technology picks up. According to new research from Relecura, Samsung (SSNLF) and Qualcomm have the most IoT patents. Qualcomm leads in terms of high-quality patents with 852, whereas Samsung leads in terms of total numbers with over 4,500 patents.
Next, we'll see how legal issues are affecting Qualcomm's balance sheet items.