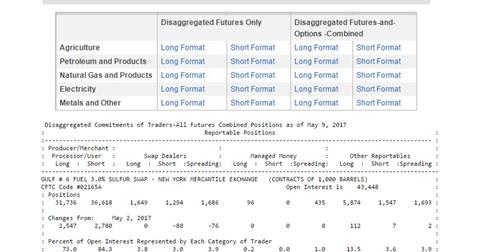 Does the Commitment of Traders Report Give an Edge to Investors?
By Ricky Cove

Updated
Introduction to Commitment of Traders report
The Commitment of Traders (or COT) report is released by the Commodity Futures Trading Commission (or CFTC) every Friday at 3:00 PM CST. It's based on the positions held by participants as of the end of the Tuesday of the same week. 
The report provides a breakdown of the open interest of each segment in the market in which at least 20 traders are holding a minimum number of contracts as specified by the CFTC.
Article continues below advertisement
Open interest is the total of all outstanding positions held in an exchange. For example, the open interest of a trader is the size of the entire position that particular trader is holding. Changes in open interest and the long and and short positions of traders and institutions can provide insight about each category of market participants.
Disaggregated and Financial Traders Reports
The COT report has two parts: the Disaggregated Report and the Financial Traders Report. The Disaggregated Report contains market information about 22 commodities traded on the markets, including the following:
grains such as wheat and corn
energy commodities such as crude oil (CL), natural gas, and heating oil
meats
soft commodities such as cotton, coffee, and sugar
The Financial Traders Report covers open positions in the following:
currencies such as the US dollar (UUP), the euro, the Swiss franc, and the Japanese yen
financials that include most Treasuries in bond markets (BND)
equity indexes that include all reportable positions for the US E-mini S&P 500 (ES), the E-mini S&P Midcap 400, the E-mini NASDAQ 100, and the E-mini DOW
The report also includes a breakup of the highly active SPDR S&P 500 (SPY).
Series overview
In this series, we'll talk about how investors and traders can understand and benefit from the COT report. We'll also analyze the previous week's COT report for some major asset class segments.