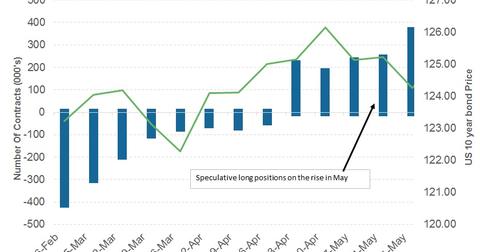 Do Rising Bond Prices Reflect Investor Worries?
By Ricky Cove

Updated
Relief in equity markets hasn't been reflected in bonds
Optimism seeped into the global markets after a positive revision to the US 1Q17 GDP prior to the Memorial Day long weekend. Bond yields (BND) have risen marginally from their lows, reflecting investors' shift toward risk-on territory.
Volatility, which can be gauged by the CBOE VIX index, fell below the 10.0 mark last week, showing that investors were a little worried about the current state of affairs in the global economy.
The US Ten-Year Bond (IEF) closed for the week at 126.19, the same as in the previous week. The ten-year yield, on the other hand, inched higher to 2.3% from 2.2%. The two-year bond yield (SHY) moved 2 basis points to 1.29%, compared to 1.27% in the previous week.
Bond traders continue with bullish bets
As per the latest CFTC (Commodity Futures Trading Commission) reports, large speculators have increased their net positions and remained bullish. A total net position of 362,501 contracts has been reported, reflecting a rise of 122,491 contracts on the long side.
Bullish positions in bond markets have been on the rise in the last four weeks, indicating that bond traders prefer to remain on the longer side for the near term. US bonds usually surge in times of uncertainty. Does this mean we should expecting volatility (VIXY) in the days ahead, or are investors positioning for a disappointment from the Federal Reserve? If the Fed doesn't raise the interest rate, bond yields are likely to fall, and bond prices are likely to rise.
Key movers for bond yields this week
Non-farm payroll data are the key economic data to watch for this week. A weak reading could drive bond prices higher and bond yields (HYG) lower. The Fed's voting members could be moving the bond markets this week.