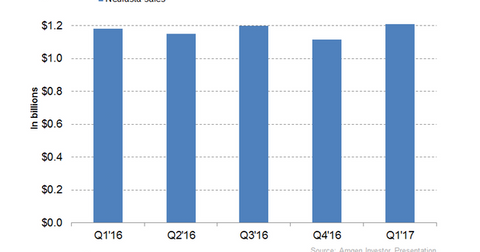 Could There Be a Revenue Fall for Neulasta in 2017?
By Daniel Collins

Updated
Neulasta's revenue trends
In 2016, Amgen's (AMGN) Neulasta (pegfilgrastim) generated revenues close to $4.6 billion, which was a slight drop from its 2015 net sales of ~$4.7 billion.
Neulasta went off-patent in the US in October 2015. Apotex filed an application to the FDA seeking regulatory approval for a biosimilar version of Neulasta in 2014, but it has not yet received regulatory approval.
In July 2016, Mylan (MYL) and Biocon announced that the FDA accepted their applications for pegfilgrastim biosimilar. After the FDA's rejection of Novartis's (NVS) pegfilgrastim biosimilar, the company withdrew its application from the European Medicines Agency (or EMA). If approved, pegfilgrastim biosimilars are expected to pose fierce competition to Neulasta in 2017.
The chart above shows Neulasta's revenue performance since 1Q16.
Article continues below advertisement
Myelosuppressive chemotherapy regimens
There has been a slight decrease in the use of myelosuppressive chemotherapy regimens. This trend has contributed to a small drop in Neulasta sales volume. However, Amgen has succeeded in extending Neulasta's lifecycle by launching its Onpro Kit. Onpro Kit has witnessed significant patient adoption in the US. In 2016, nearly 50% of total Neulasta revenues were related to patients using Onpro Kit.
Onpro Kit is expected to drive the growth of Neulasta in 2017. A delay in the launch of Neulasta biosimilars is also believed to help Neulasta maintain its revenue performance in 2017.
Neulasta and Onpro Kit
When patients undergo chemotherapy, their white blood cell (or WBC) count decreases. As a result, the patient's immune system weakens, making the patient more susceptible to infections. Neulasta reduces the probability of infection due to low WBC count in patients with certain types of cancer. Neulasta is a leukocyte growth factor and boosts the neutrophils to strengthen the immune system.
Onpro Kit is a single dose and single-use Neulasta on-body injector. Sanofi's (SNY) Leukine has been challenging Neulasta in this market. The success of Neulasta is expected to support Amgen stock and the iShares NASDAQ Biotechnology ETF (IBB). Amgen makes up ~7.3% of IBB's total portfolio holdings.
In the final article in this series, we'll discuss Amgen's Neupogen and Enbrel.