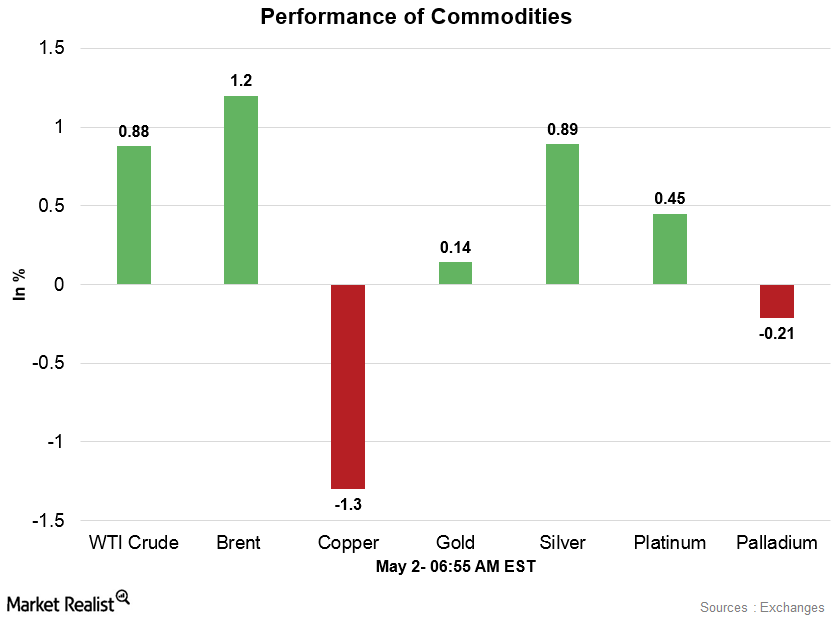 Commodities Are Stable in the Early Hours, Copper Fell
Crude oil
After falling for two consecutive trading weeks, crude oil started this week on a weaker note. However, crude oil gained strength in the early hours on Tuesday. The crude oil market sentiment is mixed amid supply cuts as well as an increase in oil inventories and the rig count.
Article continues below advertisement
Market expects supply cut agreement
Oil prices fell on Monday when reports said that Libya's production rose amid plans to boost its production. Weakness in China's manufacturing activity in April also dented the sentiment in oil markets. On the other hand, prices got support on May 2 as Russia's oil output fell to 11 MMpbd (million barrel per day) in April from 11.05 MMbpd in March. The market expects OPEC to extend the supply cut agreement and bring balance to the market.
The market is also looking forward to inventory reports scheduled this week. The American Petroleum Institute's crude oil inventory report for the week ending on April 28 is scheduled to release at 4:30 PM EST today. At 6:50 AM EST on May 2, the West Texas Intermediate crude oil futures contract for June 2017 delivery was trading at $49.24 per barrel—a gain of ~0.82%. The Brent crude futures contract for July 2017 delivery rose ~1.2% to $52.12 per barrel. The PDR S&P Oil & Gas Exploration & Production ETF (XOP) closed at $34.89 after falling 0.17% on May 1.
Metals
Copper prices rose to one-month high price levels on Monday amid news stating that Freeport McMoRan (FCX) workers in Indonesia were planning a one-month strike. However, copper's momentum declined and prices started to fall in the early hours on Tuesday amid China's weaker-than-expected manufacturing activity data. At 6:55 AM EST on May 2, the COMEX copper futures contract for July 2017 delivery was trading at $2.63 per pound—a fall of ~1.3%. The PowerShares DB Base Metals ETF (DBB) rose 1.5%, while the SPDR S&P Metals & Mining ETF (XME) fell 0.6% on May 1.
Gold (GOLD) and silver (SLW) were stable in the early hours. Gold is trading at three-week low price levels amid a rise in US Treasury yields. Platinum is stable, while palladium is weaker in the early hours.