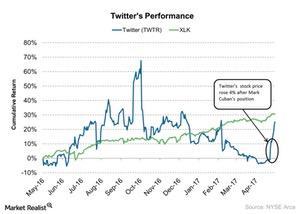 Mark Cuban's Position in Twitter Caused a 4% Rally in the Stock
Mark Cuban in an interview with CNBC
Cuban, AXS TV chair and the owner of the Dallas Mavericks, recently said that he'd taken a sizeable position in Twitter. Cuban believes that artificial intelligence will play a big role in the technology sector (XLK). He believes that artificial intelligence will increase the productivity of Twitter's existing employees. Unfortunately, it will also reduce the company's employment because the system will be able to manage different types of work.
Article continues below advertisement
Cuban said that he started investing in Twitter as the company gained direction in terms of artificial intelligence and that such technology should increase the company's productivity and profitability in the long term. Cuban also said that he'd made his top investments in Amazon (AMZN) and Netflix (NFLX).
Twitter stock rose nearly 4% on May 2, 2017. It made a high of $18.53 on the day, a rise of nearly 5.7% compared to the previous day's closing price. The strong movement in the stock after Cuban's position indicates that the company's future could be bright. Cuban said, "I started buying Twitter recently because I think they finally got their act together with artificial intelligence."
Twitter's performance
TWTR has returned nearly 13% on a YTD (year-to-date) basis. Its 52-week high is $25.25, and its 52-week low is $13.73. It's currently trading at a negative price-to-earnings multiple. If we analyze its last three years' worth of performances, we can see that it's shown negative earnings growth. We could see better earnings growth for it in the near future.
In the next part of this series, we'll analyze Mark Cuban's views on various stock picks.