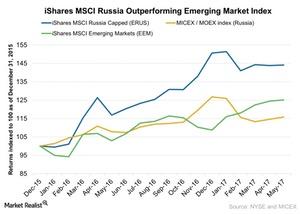 Are Russian ETFs Outperforming the Emerging Market Index in 2017?
By Mary Sadler

Nov. 20 2020, Updated 10:40 a.m. ET
Russian equity performance
Russia's market performance has been affected by geopolitical crisis in Ukraine and Syria since 2014, resulting in Western sanctions. The slump in oil prices had also been affecting its economic growth since 2014. The revival of the global economy and oil prices in the latter half of 2016 provided much-needed relief to Russian markets in 2016.
Article continues below advertisement
Equities' performance in 2016
The iShares MSCI Russia Capped (ERUS) outperformed the Emerging Market Index (EEM) with gains of about 50%. The iShares MSCI Emerging Markets (EEM) rose about 8% in 2016. Despite sanctions, the benchmark Russia equity index, the MOEX (formerly known as the MICEX index), has risen about 26% in 2016.
As Russia is a major oil, gas, and arms exporter, its economy is highly dependent on exports for its economic performance. The improved global activity from the second half of 2016 has boosted the Russian exports, thus supporting its economic growth. Also, the recovery in oil prices (USL) (ERX) in 2016 and the resultant attractive exchange rate of the Russian ruble (ERUS) made Russia equities a more attractive investment destination.
The potential of a friendly relationship between Trump and Putin is also expected to favor Russian markets. The possible easing of sanctions could benefit Russian companies in 2017. The sanctions are focused primarily on Russia's oil sector, so the beneficiaries of eased sanctions would include energy companies like Rosneft (ROSN), Novatek (NOVKY), and Gazprom (OGZPY).
Performance in 1Q17
However, investors need to be cautious while investing in Russian markets considering the unknowns about US and Russia relations in 2017. The Russian equities are down in 1Q17 as compared to the Emerging Market Index (EEM). The iShares MSCI Emerging Markets (EEM) has risen about 13% in 1Q17. The iShares MSCI Russia Capped (ERUS) and the MEOX Index are down by about 4% and 11%, respectively, in 1Q17. Crude oil, which weighs heavily on the Russian economy, is also down in 1Q17, possibly driving down the performance of Russian stocks.
To learn more, read Will Russia Support OPEC if Production Cuts Continue?