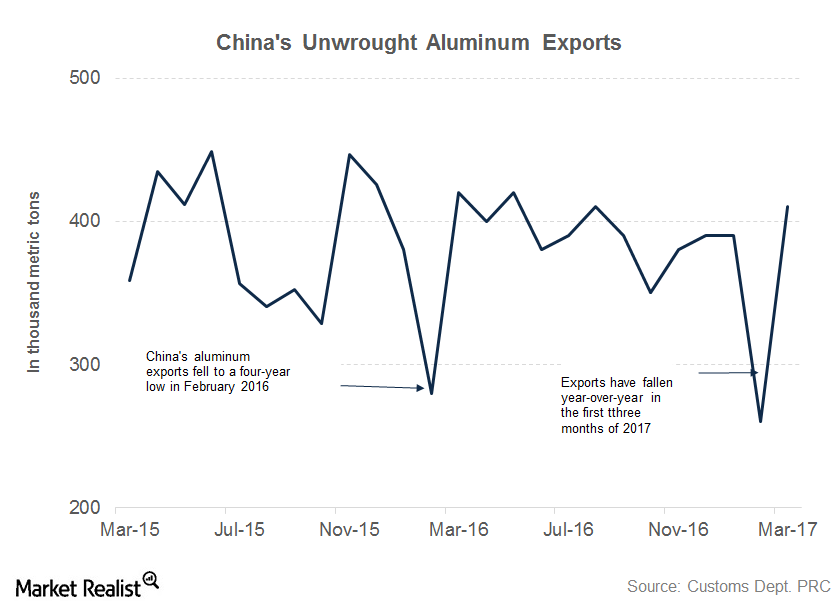 Aluminum Prices: A Look at Its Bullish Drivers
Aluminum prices
Because Alcoa (AA) is a pure-play commodity producer like Century Aluminum (CENX) and Rio Tinto (RIO), its fortunes are closely tied to commodity prices. Bauxite, alumina, and aluminum are the three key commodities that Alcoa sells.
As we noted previously, there is a significant divergence in analysts' opinions over the outlook for aluminum prices (DBB). In this article, we'll look at aluminum's bullish drivers.
Article continues below advertisement
Demand environment
Aluminum, like most other commodities, is driven by the underlying supply-demand dynamics. During its 1Q17 earnings call, Alcoa (AA) raised its 2017 global aluminum demand forecast to 4.5%–5.0% from its previous guidance of 4.0%.
Now, Alcoa sees higher aluminum demand in the world, with the exception of China. During its 1Q17 earnings call, Norsk Hydro (NHYDY) also raised its aluminum demand forecast to 4.0%–6.0% from the previous projection of 3.0%–5.0%.
Higher demand in China, led by the country's growing car sales and better-than-expected construction activity, helped improve aluminum's demand environment. China is the world's largest aluminum consumer, so even a slight uptick in Chinese demand has a disproportionate impact on global markets.
Supply
Demand has not been a major concern in aluminum's case. Aluminum's price action has largely been driven by supply-side factors, especially Chinese aluminum exports. In 1Q17, Chinese aluminum production rose 14.2% year-over-year. Thanks to its domestic demand, Chinese aluminum exports registered a yearly fall in 1Q17.
Demand and supply-side factors appear to look supportive of aluminum prices. However, the bears also have some valid arguments, which we'll discuss in the next article.