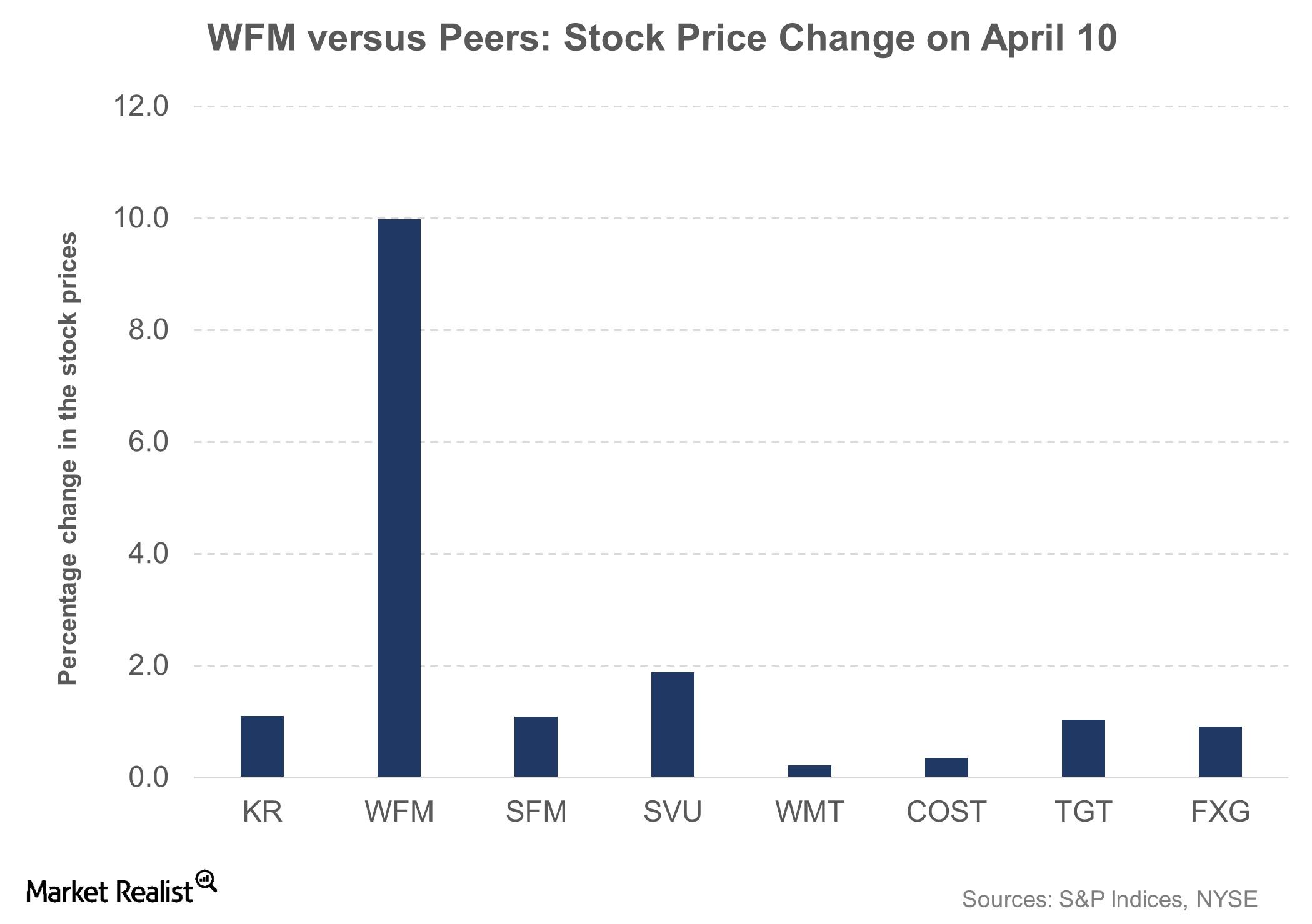 Whole Foods Market Rises 10% as Jana Partners Declares Its Stake
Jana Partner declares a stake in WFM
Whole Foods Market stock (WFM) spiked as much as 10% on April 10, 2017, after activist investor Jana Partners disclosed its 8.3% stake in the company. Jana has now become the second-largest shareholder in the Austin-based organic and natural food retailer.
Article continues below advertisement
What does the stake mean for Whole Foods?
Jana Partners is reportedly exploring the possibility of making some significant changes to WFM. It's already begun a review of various strategic options and plans to hold discussions with the company's board regarding the same. It's also considering the possibility of a sale.
Jana will evaluate the reasons behind Whole Foods' continued underperformance and suggest required changes at the senior management and board levels.
The investor is also in favor of internalizing Whole Foods' grocery distribution, limiting the influence of United Natural Foods (UNFI), WFM's primary wholesale distribution partner. UNFI shares fell 8.2% yesterday.
The news proved positive for the grocery sector, with most stocks ending the day on positive notes. The share prices of Kroger (KR), SUPERVALU (SVU), and Sprouts Farmers Market (SFM) rose 1.1%, 1.9%, and 1.1%, respectively, on the day.
ETF investors seeking to add exposure to Whole Foods can consider the First Trust Consumer Staples AlphaDEX ETF (FXG), which invests 4.8% of its portfolio in the company.
About Jana Partners
Barry Rosenstein founded Jana Partners in 2001. Since then, the company has changed the boards of Tiffany & Co., Bristol-Myers Squibb, and Blackhawk Network Holdings.
After accumulating a 6% stake in Safeway in 2013, the investor pressed the grocer to exit underperforming markets. In 2014, Safeway merged with Albertsons in a $9.1 billion deal.