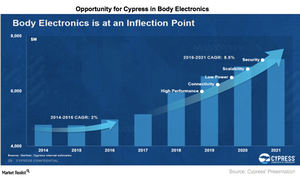 Where Cypress Stands Now in Body Electronics
By Puja Tayal

Apr. 14 2017, Updated 12:45 a.m. ET
Body electronics
The advents of ADAS (advanced driver assistance system), safety technology, infotainment, and the connectivity of cars with consumer devices like mobile phones have now made car body electronics a key point of focus. This trend is likely to grow as autonomous cars add features such as artificial intelligence and vehicle-to-everything communications.
Notably, Cypress Semiconductor (CY) expects the body electronics market to grow at a CAGR (compound annual growth rate) of 8.5% between 2016 and 2021. Meanwhile, the addition of new capabilities has opened doors for new players like Texas Instruments (TI) and Delphi (DLPH). These companies have developed secure, scalable MCUs (microcontrollers) that deliver high performance, low power, and connectivity.
Article continues below advertisement
Close collaboration between automakers and suppliers 
The increasing complexity of body electronics requires high-performance ECUs (engine control unit) based on multicore architectures. These ECUs require a large amount of Flash memory to download over the air software update while the car is in motion. As the level of automation increases, the car would require a whole ecosystem to support this automation.
While Intel (INTC) and Qualcomm (QCOM) are trying to be a one-stop solution for the autonomous car, they alone cannot provide an entire ecosystem. Companies at every stage of the supply chain have to closely collaborate to deliver the ecosystem for autonomous cars. ARM and competing ecosystems are developing reliable, high-performance platforms for automotive.
How is Cypress placed in the body electronics segment?
Cypress's Traveo family of MCUs is well-placed to tap the body electronics market. Traveo MCUs are based on an ARM Cortex R5F core and have embedded security at the silicon level, which addresses the complexity of all players along the auto supply chain.
Moreover, Cypress' NOR flash memory is present in all ADAS systems, and the company has a strong partnership with top tier-1 suppliers and auto OEMs (original equipment manufacturer). With all these efforts, Cypress occupies a strong position in the body electronics market going forward.
Now let's take an even closer look at Cypress's current automotive portfolio.