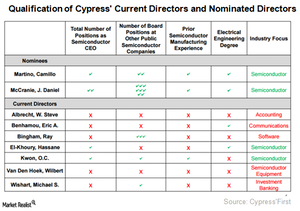 What's Going On with Cypress Management?
By Puja Tayal

Updated
Management changes at Cypress
Cypress Semiconductor (CY) has transitioned to the 3.0 model, and the new model has new management. T.J. Rodgers, the company's founder, retired as chief executive officer and was succeeded by Hassane El-Khoury. His retirement was followed by two abrupt resignations of Cypress veterans: Badri Kothandaraman, who invented USB-C (Universal Serial Bus Type C) and integrated the Broadcom (AVGO) IoT (Internet of Things) business; and Andrew Wright, who headed up Cypress's design centers worldwide.
Not only is there trouble within management, but there's also tension in the board of directors.
Article continues below advertisement
Rodgers nominates new board members
Rodgers has raised an issue over the directorship of Ray Bingham, chairman of the board of directors, and Eric Benhamou, lead independent director who heads up the Compensation Committee. Rodgers has suggested two people to replace them: Daniel McCranie, ON Semiconductor (ON) chairman; and Camillo Martino, a board member for Magnachip Semiconductor (MX).
Rodgers said the Cypress board doesn't have semiconductor operations background except for O.C. Kwan, who lives in Korea. McCranie and Martino have the so-called c-suite experience in handling semiconductor operations and can advise the new chief executive officer.
McCranie was previously Cypress's executive vice president of sales and applications. He also served on the board from 2005 through 2014. He has also served as chairman of Actel, Virage Logic, and Xicor. He owns 25,000 Cypress shares.
Martino has served on the boards of Magnachip Semiconductor, VVDN Technologies, and SAI Technology. He has handled several c-level positions in various semiconductor companies. He owns 10,000 Cypress shares.
Story behind Bingham's appointment
In August 2016, Bingham was elected Cypress's executive chairman, a temporary position created to mentor the new chief executive officer. His compensation was pre-approved by the Compensation Committee but not negotiated by the board. As executive chairman, his annual retainer fee was almost 18 times higher and his equity compensation was more than 22 times higher than an outside Cypress director.
Rodgers objected to Bingham's compensation and identified instances where Bingham had a conflict of interest. We'll look at those conflicts of interest in the next part of this series.