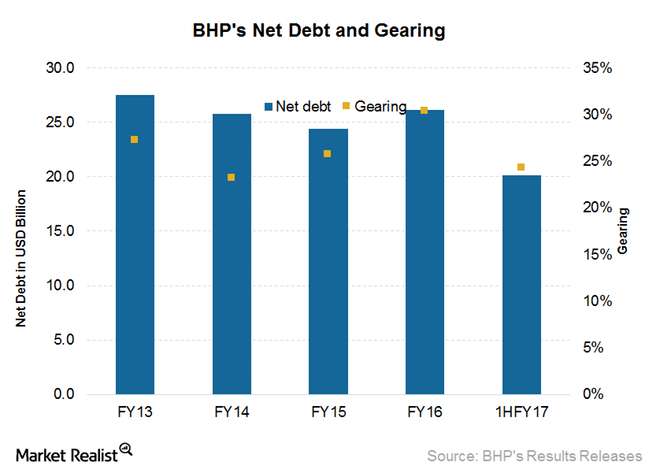 Behind BHP Billiton's Roller Coaster Ride in 1Q17
By Anuradha Garg

Apr. 6 2017, Updated 4:35 p.m. ET
BHP stock's highs and lows
BHP Billiton's (BHP) stock price gained only 1.5% in the first quarter of 2017. On March 31, 2017, its price fell 13% from its peak reached in January.
BHP's price at the beginning of 2017 was supported by strong commodity (COMT) prices. After that, concerns about a fall in commodity prices led to the decline in BHP's stock price.
Article continues below advertisement
BHP's 4Q16 results
BHP Billiton's (BHP) 4Q16 results were a beat on market expectations due to the rebound in commodity prices and productivity gains. Its underlying net profit of $3.2 million was a solid improvement, compared to its 4Q15 profit of $412 million.
The company also declared dividends of $0.40 per share—$0.10 per share higher than the minimum payment under the company's policy of a 50% payout from its underlying earnings. Investors should note that most of the other miners—including Rio Tinto (RIO), Vale SA (VALE), and Cliffs Natural Resources (CLF)—also reported an earnings beat in 1Q17.
For a detailed analysis of BHP's 4Q16 results, please read What BHP Billiton's Latest Tells Us About the Future.
Escondida mine strike
In February 2017, workers went on strike at BHP Billiton's (BHP) Escondida mine in Chile, which is the world's largest copper mine. The Escondida mine accounts for ~5% of the world's copper production. BHP owns a 57.5% stake in the mine.
The mine workers had demanded a 7% pay rise and bonuses of 25 million pesos (~$38,000). BHP agreed to pay bonuses totaling 11.5 million pesos with no pay hike. The negotiations between the workers and the company ended on March 23, 2017, without any resolution.
The miners' union decided to keep its old contract for another 18 months, and the operations resumed at Escondida. The 43-day-long strike impacted copper production negatively for BHP Billiton, and the estimated loss for the miner from the wage dispute totaled ~$1 billion.