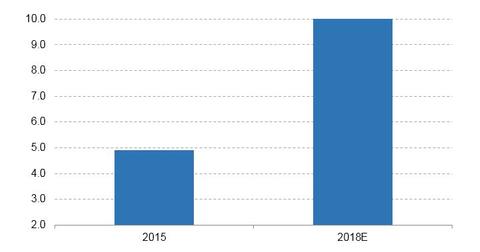 What Does the Souq Acquisition Mean for Amazon?
By Neha Gupta

Apr. 26 2017, Updated 6:37 a.m. ET
$650 million changes hands
According to multiple media reports such as the Financial Times, Amazon (AMZN) is believed to have quietly acquired e-commerce company Souq, which operates in the Middle East.
However, Amazon has yet to officially confirm that it has acquired the startup. The deal is believed the to have cost Amazon $650.0 million, which implies a steep discount to Souq's earlier valuation of $1.0 billion.
Amazon isn't acknowledging that it acquired Souq, let alone how much it paid for the asset. However, investors may still want a hint of the economic value of the transaction for a glimpse of what could change for Amazon's international prospects, especially in terms of emerging markets (EEM).
Article continues below advertisement
Middle East footprint
The acquisition of Souq extends Amazon's international reach to the Middle East, a region in which the company doesn't have a footprint but for which the opportunities are enormous. 
The e-commerce industry in the Middle East is expected to be worth ~$10.0 billion by 2018, rising from ~$4.9 billion in 2015, according to eMarketer, as cited by Press Reader.
Marketplace, fulfillment operations, and payment gateway
Souq is the largest e-commerce company in the Middle East. According to a TechCrunch report, its network connects ~75,000 merchants with consumers across the region. The platform carries a variety of consumer items, and shoppers can access more than 2 million products on Souq's marketplace. As such, Amazon is gaining an already vibrant marketplace via the Souq acquisition.
Souq also has logistics and fulfillment operations that fit perfectly with Amazon's push to take control of its delivery system. Amazon largely depends on external delivery services rendered by shipping companies such as FedEx (FDX) and United Parcel Service (UPS).
On top of the above, Souq will also bring a digital payment system to Amazon. Amazon has resisted tapping into third-party payment processors such as PayPal (PYPL), preferring to build and nurture an in-house payment system.
It remains to be seen whether Amazon's management will shed more light on the company's push in the Middle East. Hopefully, investors will learn more on the company's upcoming 1Q17 earnings conference call.