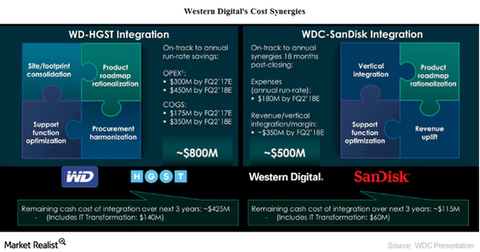 WDC and STX Are Still Reducing Costs, Improving Profit Margins
By Adam Rogers

Apr. 12 2017, Updated 8:07 a.m. ET
WDC expects cost savings of $800 million from HGST integration
Hardware technology (QQQ) company Western Digital (WDC) expects to achieve $800 million in savings on an annualized run-rate basis from its integration of HGST by the end of 2017, compared to its earlier estimated figure of $650 million.
Driven by product pricing and cost improvements from integration, WDC's non-GAAP (generally accepted accounting principles) gross margin expanded 280 basis points to 36.7% in fiscal 2Q17. Its operating expenses fell $66.0 million quarter-over-quarter to $797.0 million in the same quarter. 
Article continues below advertisement
Mark Long, CFO (chief financial officer) of WDC, said, "We continue to make progress towards our integration synergy target, while making ongoing investments in product development, go-to-market capabilities, and IT [information technology] projects as part of our transformation to enable future growth."
Seagate's fiscal 2Q17 gross margin improvement
Seagate's (STX) gross margin has been constantly improving, from 24.8% in fiscal 2Q16 to 28.6% in fiscal 1Q17 and 30.8% in fiscal 2Q17. Storage companies are continuously looking to improve their profit margins to offset falling sales in a difficult macroeconomic environment. While Seagate's fiscal 2Q17 revenue fell 3% YoY, its non-GAAP EPS (earnings per share) rose 68% YoY.
Seagate stated that its cost-reduction activities increased its profits by over $500 million YoY in 2016. While Seagate reduced its manufacturing costs by $200 million in 2016, its operating expenses fell $300 million. The company now expects a stable macroeconomic environment to impact its revenue positively. It expects its gross margin to be between 27% and 32% and its operating margin to be between 13% and 15% in fiscal 2017.
Seagate's gross margin improved from 24.8% in fiscal 2Q16 and 28.6% in fiscal 1Q17 to 30.8% in fiscal 2Q17. In fiscal 2Q17, Seagate's non-GAAP operating expenses were $458 million.