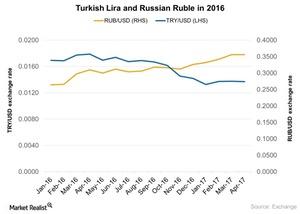 The Syria Conundrum: Is Turkey with the US or Russia?
By Mary Sadler

Updated
Uncertain relations between the United States, Russia, Syria, and Turkey
Global markets (VEU) (ACWI) fell as the United States launched 59 Tomahawk missiles at a Syrian government airbase on the expectation of a chemical attack against Syrian civilians early in April 2017. Turkey (TUR) also recently called for strict action against Syria's president Bashar al-Assad, supporting the United States' involvement in Syria's war.
This move threatened Turkey's fragile relationship with Russia (ERUS). However, Turkey and Russia seem to have restored ties and are now working jointly toward solving regional problems, as stated by Turkey's top diplomat.
President Recep Tayyip Erdoğan's referendum victory in Turkey is expected to further his interest in the neighboring Syria, which is likely to see its crisis escalate (GAF) (GULF).
Let's take a look at the Turkish lira's (TUR) movements so far in 2017 amid these political tensions.
Article continues below advertisement
Lira gains strength after key referendum
The lira flipped to positive territory against the US dollar following Erdoğan's referendum win on April 16, 2017. The lira had risen 0.86% since the win as of April 17, 2017. 
Fixed-income securities didn't seem to appreciate the win, with the 10-year bond yield rising 0.95% on April 17, 2017, compared to the previous day.
The equity market also rose slightly with a gain of less than 1% on April 17, 2017. However, the lira has been performing badly since the beginning of 2017. In 1Q17, the Turkish currency had fallen ~3% against the US dollar (UUP) (USDU) to 3.67 as of April 19, 2017, due political tensions in the region.
However, the Russian ruble (ERUS) has been surging since the beginning of 2017. The currency has risen ~1.8% compared to the US dollar (USDU) as of April 20, 2017. The expected lifting of sanctions by the United States (SPY) following President Donald Trump's US election win is expected to boost the ruble to some extent.
Impact of geopolitical uncertainty
If geopolitical tensions between Russia and Turkey keep escalating, their respective currencies are expected to be hit. The global economy (ACWI) has also been facing demand slowdowns and currency risk on speculation surrounding multiple hikes in the US interest rate. These factors are likely to impact the emerging market (EEM) performances.
Next, let's look at the status of foreign investment in Turkey.