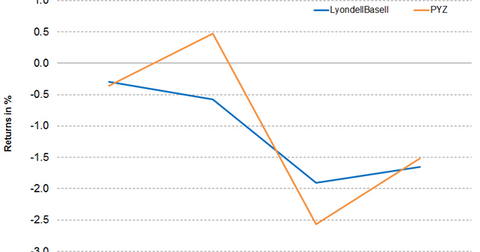 LyondellBasell's ACP Polyethylene Technology to Be Used by Hengli
By Peter Neil

Apr. 17 2017, Published 8:49 a.m. ET
LyondellBasell and Hengli Petrochemical
On April 12, 2017, LyondellBasell (LYB) announced that it would supply its Hostalen ACP (Advanced Cascade Process) polyethylene (or PE) process technology to Hengli Petrochemical (Dalian). ACP PE technology will be used for a 400 KTA (kilotons per annum) high-density polyethylene (or HDPE) unit to be built in the Hengli Petrochemical Industrial Park (or HPIP) on Changxing Island in Dalian, Liaoning Province, China.
Article continues below advertisement
However, LyondellBasell didn't disclose the financial aspects of the deal. Dan Coombs, executive vice president of Global Manufacturing, Refining, Projects and Technology at LyondellBasell, said, "Ostalen ACP process technology allows our customers to produce high-performance multimodal HDPE products exhibiting a combination of properties not achievable with unimodal or bimodal grades." He added, "Based upon our heritage of licensing and technology leadership, LyondellBasell is uniquely positioned to deliver to our customer's world class manufacturing processes to meet market needs."
LyondellBasell stock movement for the week ended April 14
For the week ended April 14, 2017, LYB closed at $84.91, falling 4.4% for the week. The stock traded 5.6% below its 100-day moving average price of $89.95, indicating a downtrend in the stock. On a year-to-date basis, LYB has fallen 1.1%. With a 14-day RSI (relative strength index) of 31, LYB is temporarily moving into an oversold situation. An RSI of 70 indicates that a stock is overbought, and a score of 30 suggests that a stock is oversold.
LYB's 52-week low is $69.82, and its 52-week high is $97.64. LYB underperformed the PowerShares DWA Basic Materials Momentum ETF (PYZ), which fell 3.9%% for the week ended April 14, 2017.
PYZ has invested 3.1% of its holdings in LyondellBasell. The other top holdings of the fund include FMC (FMC), Chemours (CC), and International Paper (IP) with weights of 5.1%, 4.8%, and 4.3%, respectively, as of April 14, 2017.