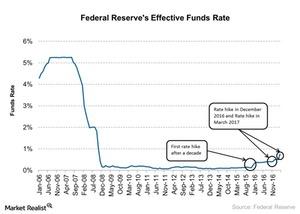 Cooperman on the Fed: Slowpoke Central?
By Sarah Sands

Updated
Leon Cooperman on the Fed
In his recent interview with CNBC, Omega Advisors Chairman Leon Cooperman shared his view of the Federal Reserve's gradual rate hike process. Cooperman believes that the Fed is, so to speak, dragging its tail.
Article continues below advertisement
Improvements in the economy
Most of the economic indicators are showing the following positive improvements:
The labor market is showing improvement, which is boosting consumer demand.
Consumer spending and GDP growth are improving, while the unemployment rate declines.
Manufacturing and services PMIs (purchasing managers' indexes) are improving, however gradually.
All these factors are indicating that the economy (SPY) (QQQ) (IWM) is showing recovery. Cooperman also believes that corporate earnings growth will slowly pick up in upcoming quarters. We may see a stronger earnings recovery in the near term after the huge contraction we've seen in past years.
An abnormal environment?
According to some economists, a gradual rate hike is generally appropriate in an economy that's showing strength. But Cooperman believes that the Fed might not be moving quickly enough, given the abnormal macro economic environment.
Specifically, Cooperman stated: "I'm firmly of the belief, rightly or wrongly, that you're going to have capital losses in bonds over the next couple of years. It's going to unfold very slowly because the Fed is very reluctant to move. They're reluctant to move in part because of the problems of income disparity in the economy."
Income disparity
This income disparity is the major reason behind the Fed's slow movement, according to Cooperman. If everyone in the economy (VFINX) (VOO) (IVV) could be employed and earned a decent wage, then we'd see improvements on this front.
Cooperman added: "I think the Fed's monetary policy is designed to get more people to work to reduce the income disparity and reduce social stress, and I think there's an element of correctness in that."
In the next part of this series, we'll examine what Cooperman thinks about the bond yield.