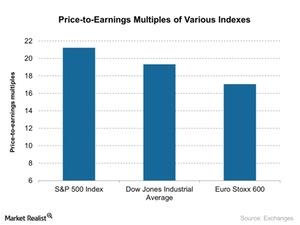 Why Larry Fink Sees Better Value in Europe than the US
Larry Fink's views on the US
In the previous part of this series, we discussed that Larry Fink believes that US growth will slow down in 1Q17. The falls in retail sales and car sales in the first two months of 2017 are worrying investors.
The uncertainty about policy reforms in the US (QQQ) (IWM) is a major concern for Fink. He also believes that if the economy continues to see slow growth, then US stocks (SPY) may face some pressure. In the present scenario, investors want to see details about the fiscal stimulus the government is planning to implement.
He said that in the present scenario, he sees more value in European stocks than in US stocks. He also said that he's invested more money in Europe as compared to other regions.
Article continues below advertisement
Larry Fink's views on Europe
Fink said that the condition in Europe (VGK) (IEV) is improving. Macro indicators are suggesting a strong recovery. The cyclical recovery in the economy is a positive sign. Fink also expects that European stocks could perform quite well in 2017. However, there is some political risk in the region ahead of the France (EWQ) election.
The current price-to-earnings multiple of the Euro Stoxx 600 is at 17.05x, and the S&P 500 (SPY) index is at 21.21x. The dividend yield of the Euro Stoxx 600 is at 3.1% and the S&P 500 Index is at 2.4%. According to Sam Stovall, the CFRA chief investment strategist, the European equity market (HEDJ) is currently providing attractive valuations.
In the next part of this series, we'll analyze Larry Fink's view on the lower interest rate.