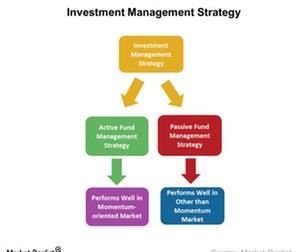 Larry Fink: Active Management Showing Good Returns
By Sarah Sands

Updated
Larry Fink on the use of technology-based investing
Larry Fink shared his views on investment management strategy in a recent interview. He said that technology is on the rise in investment management. He said that though his firm isn't substituting technology with fund managers, it has increased its use of technology.
Fink said that his firm is researching various ways to improve artificial intelligence. He also said that as the absolute returns are lower, his firm has reduced fund management fees.
Article continues below advertisement
Larry Fink on active management
When there is a momentum-oriented market, passive fund management strategy does well. In different scenarios, active fund management strategy does well. According to billionaire investor David Einhorn, "passive money management strategies are fundamentally momentum strategies." In other words, when stocks perform well and deliver good returns, their weights in the index (QQQ) (SPY) rise. Stocks that don't do well see their weight in the index (VFINX) (VOO) (IWM) fall and are sometimes replaced with stocks that are doing well.
In the present scenario, Fink believes his firm's active managers have shown good performances. The market seems to be gradually losing momentum after President Trump's efforts to replace the Affordable Care Act have failed thus far. However, Fink believes that specific stocks have the potential to perform well despite the poor performance of the index.
You may be interested to read, Cooperman Gets Crude: Price Outlook by Next Year.