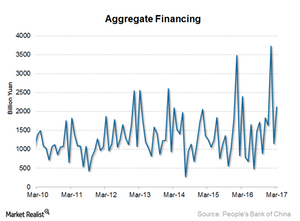 Why China's Credit Growth Is Worrisome
By Anuradha Garg

Apr. 25 2017, Updated 10:36 a.m. ET
China's credit metrics and iron ore prices
Financing is crucial to growth, as it stimulates consumption and investment in an economy. By tracking credit growth in China (MCHI), investors can gauge patterns that forecast future demand.
Article continues below advertisement
Aggregate financing accelerates
Aggregate financing measures liquidity by adding the total funds provided by a financial system to nonfinancial sectors and households. China's aggregate financing stood at ~2.1 trillion Chinese yuan in March 2017, compared with ~1.2 trillion yuan in February 2017. The median estimate was 1.5 trillion yuan.
New yuan loans fell
According to the People's Bank of China, new loans issued by Chinese banks in March 2017 totaled 1.0 trillion Chinese yuan, lower than the 1.2 trillion yuan issued in February 2017.
Article continues below advertisement
M2 money supply growth slows as well
The broad money supply rose 10.6% YoY (year-over-year) in March 2017, lower than February's 11.1% and the expectation of 11.1%. The M2 money supply includes cash, checking deposits, savings deposits, money market mutual funds, and other time deposits.
Slowing credit growth?
Almost all credit metrics showed a deceleration in February and March, after showing strong growth in January. However, credit growth may slow a bit as policymakers resort to tightening measures to contain asset price bubbles. The International Monetary Fund (or IMF) has also raised concerns regarding China's credit boom. According to Business Standard, IMF financial counselor and director Tobias Adrian stated that "China is a key contributor to global growth but also has notable vulnerabilities. Credit in relation to China's economy has more than doubled in less than a decade, to over 200 per cent. Credit booms this big can be dangerous." The IMF believes that more needs to be done to reduce vulnerabilities in the system.
If the Chinese government keeps its policy less supportive in the future, pressure could return to steel mills and seaborne iron ore players. Affected players would include BHP Billiton (BHP) (BBL), Rio Tinto (RIO), Vale (VALE), and the Asia-Pacific division of Cliffs Natural Resources (CLF). Notably, BHP accounts for 6.3% of the iShares Commodities Select Strategy ETF (COMT).