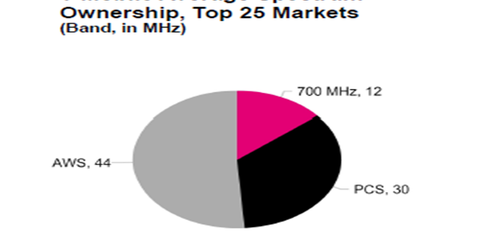 How T-Mobile Eliminated a Major Advantage among Industry Leaders
By Ambrish Shah

Updated
T-Mobile's spectrum holdings
T-Mobile (TMUS) has a solid spectrum position, with a total spectrum depth of ~86 MHz (megahertz) in the top 25 markets in the United States at the end of 4Q16. T-Mobile's spectrum consists of "an average of 12 MHz in the 700 MHz band, 30 MHz in the 1900 MHz PCS band, and 44 MHz in the AWS band."
In the US wireless space, Verizon Communications (VZ) and AT&T (T) have significant holdings in low-band spectrums. T-Mobile and Sprint (S), by contrast, do not have such large holdings in these coverage spectrums. But T-Mobile recently eliminated this major advantage of industry leaders, with its large 600 MHz low-band spectrum acquisition.
According to a RCRWireless report on April 17, 2017, "T-Mobile said it won 45% of all 600 MHz spectrum sold in recent incentive auction and plans to begin deployment later this year."
According to the same report, "T-Mobile US spent nearly $8 billion during the auction, winning a total of 1,525 10-megahertz licenses covering 414 of the auction's 428 partial economic areas."
Article continues below advertisement
T-Mobile's 700 MHz A-Block update
T-Mobile's coverage on the 700 MHz A-Block spectrum keeps rising, and better coverage on the low-band spectrum is positively impacting its subscriber growth. The company stated at the end of 4Q16 that it had entered into agreements to own a 700 MHz A-Block spectrum that covers around 272 million people or ~84% of the population in the US. T-Mobile's 700 MHz A-Block spectrum covers all of the top ten market areas in the US.
PoPs (points-of-presence) covered under T-Mobile's Extended Range LTE (long-term evolution) on the 700 MHz A-Block rose by 27 million during 4Q16 to reach 252 million. The company had stated during its 4Q16 earnings presentation that in 2017, the company expects to roll out 700 MHz spectrum in various cities, including Chicago, Eastern Montana, and substantially all of the remaining population in 700 MHz licensed areas.
T-Mobile has now achieved 4G LTE coverage parity with Verizon with 314 million PoPs covered—up from zero 4G LTE coverage four years ago.