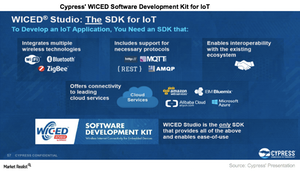 How Cypress's WICED Software Could Support IoT Growth
By Puja Tayal

Updated
Cypress against competitors
Cypress Semiconductor's (CY) latest strategies have put the company in competition with giants like Qualcomm (QCOM), Marvell (MRVL), and Mediatek in the IoT (Internet of Things) space. At Cypress's 2017 Analyst Day, CEO (chief executive officer) Hassane El-Khoury explained that the success in the IoT market comes from the company's "ability to scale, the channel strategy and the go-to-market deployment." Cypress is out front right now, based on its first-mover advantage.
El-Khoury added that as Qualcomm is currently busy with its NXP Semiconductors (NXPI) acquisition, Cypress should remain the incumbent leader.
Article continues below advertisement
The need for WICED SDK
Hassane El-Khoury added that the proliferation of IoT devices has created a need for software services that support IoT developers. The IoT device market is currently filled with various startups that have a device in place but lack the sophistication and funding to connect their devices to the existing ecosystem of connectivity protocols and third-party cloud services.
The connectivity and interoperability of devices are getting complex, meanwhile, with advancements in technology. An IoT developer needs at least $100 million to get the IoT device through the industry standard protocol and connect it with third-party clouds. But startups generally do not have that kind of budget. This has led to the emergence of the WICED (wireless Internet connectivity for embedded devices) SDK (software development kit) that supports IoT developers with their connectivity needs.
About WICED SDK
Cypress's WICED wireless SDK consists of tested Wi-Fi and Bluetooth protocol stacks and simplified application programming interfaces that help IoT developers connect their devices to the existing wireless ecosystem.
SDK connects IoT devices to a range of third-party cloud services listed in its library, including Amazon.com (AMZN) Web Services, IBM (IBM) Bluemix, Alibaba (BABA) Cloud, and Microsoft (MSFT) Azure. The SDK supports several third-party MCUs (microcontrollers) so that it can be used across a broad range of IoT applications. SDK also supports Cypress's dual-mode connectivity from WiFi, Bluetooth, and Bluetooth low-energy devices. It can also integrate MCU functionality into connectivity devices, enabling more flexible platform architectures.
In the next part, we'll take a closer look at Cypress's "Go-Broad" strategy.