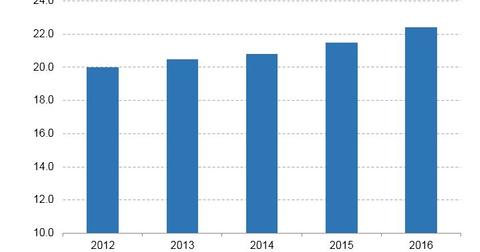 How Comcast's Digital Strategy Is Different
By Ruchi Gupta

Updated
$1.5 billion pumped into digital businesses
Through its NBCUniversal unit, Comcast (CMCSA) has invested $1.5 billion in digital assets over the last 18 months, according to NBCUniversal's CEO, Steve Burke. These investments include a stake in Snap (SNAP). NBCUniversal reportedly made a $500 million investment in Snap during the company's March IPO (initial public offering).
However, Comcast's digital strategy seems to be different from that of its rivals AT&T (T) and Verizon (VZ). These rivals have tended to take full control of digital assets they find promising, such as Verizon acquiring AOL and Yahoo! 
However, Comcast has preferred making an investment in promising digital businesses while staying at a safe distance. Aside from Snap, its other digital investments include BuzzFeed and Vox Media.
Comcast has a video arrangement with Snap, giving it a digital channel to grow its video revenues. Video is Comcast's major revenue source, contributing $22.4 billion to the top line in 2016. The chart above shows how Comcast's video revenues have trended from 2012–2016.
Article continues below advertisement
Learning from the MySpace debacle
The approach of investing in promising digital assets instead of taking full control of them appears to be informed by a desire to hedge risks in such ventures. News Corp (NWSA) learned this lesson the hard way with its $580 million acquisition of MySpace. 
Comcast may be seeking to avoid such disastrous moves. Given its background as a legacy cable company, Comcast may still need to learn how to run digital businesses. As it hunts for new revenue streams, Comcast is choosing to go slowly instead of hurrying and running the risk of being burned.
Startup accelerator
As part of the efforts to increase its digital exposure while minimizing its risks, Comcast announced in early March that it was launching a startup accelerator called LIFT Labs for Entrepreneurs. Comcast stated that it is focusing on entertainment, media, and connectivity startups.