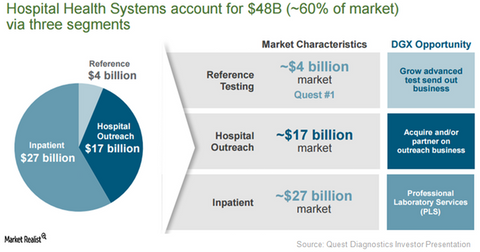 Hospital Health Systems Could Offer Growth for Quest Diagnostics
By Margaret Patrick

Updated
Hospital health systems
Quest Diagnostics' (DGX) expanding presence in the independent US laboratory market is worth $27.0 billion. The company also aims to capture a significant share of the laboratory market currently served by hospitals. Since it accounts for 60.0% of the US laboratory market, this is an opportunity worth around $48.0 billion.
If Quest Diagnostics benefits from this untapped market opportunity, it may have a favorable impact on its stock and the iShares Core S&P 500 ETF (IVV). Quest Diagnostics makes up about 0.07% of IVV's total portfolio holdings.
Article continues below advertisement
Growth opportunity
Quest Diagnostics expects that in a few years, it will capture $12.0 billion of the $27.0 billion inpatient market currently served by hospitals. To capture this high revenue and earnings opportunity, the company has been working on its relationships with hospitals. Existing PLS (professional laboratory services) with Montefiore Medical Center in New York City, HCA Healthcare in Denver, and RWJBarnabas Health in New Jersey have already surpassed the company's performance expectations.
The inpatient business will be generating lower margins as well as slower revenues per square foot since Quest Diagnostics has to generate savings for hospitals. However, this segment is expected to deliver an attractive return on invested capital. That's because in PLS, the company is not responsible for front end and back end activities. That saves on costs related to specimen acquisition, blood draw expenses, and logistics expenses to get these materials to laboratory.
Most routine testing can be performed in a few runs that the PLS will be performing for the hospital on a daily basis. Since PLS provides services directly to hospitals, it doesn't incur bad debt expenses or any billing-related administrative expenses. The company expects to service the PLS segment at only 20.0% of the total costs required for running other segments.
Quest Diagnostics also expects to leverage relationships with hospitals to explore more opportunities in its outreach business and reference testing business. All these efforts will enable the company to pose robust competition to peers such as Laboratory Corporation of America Holdings (LH), DaVita HealthCare Partners (DVA), and Idexx Laboratories (IDXX).
In the next part, we'll look at the market opportunity for Quest Diagnostics in the reference testing and outreach segments.