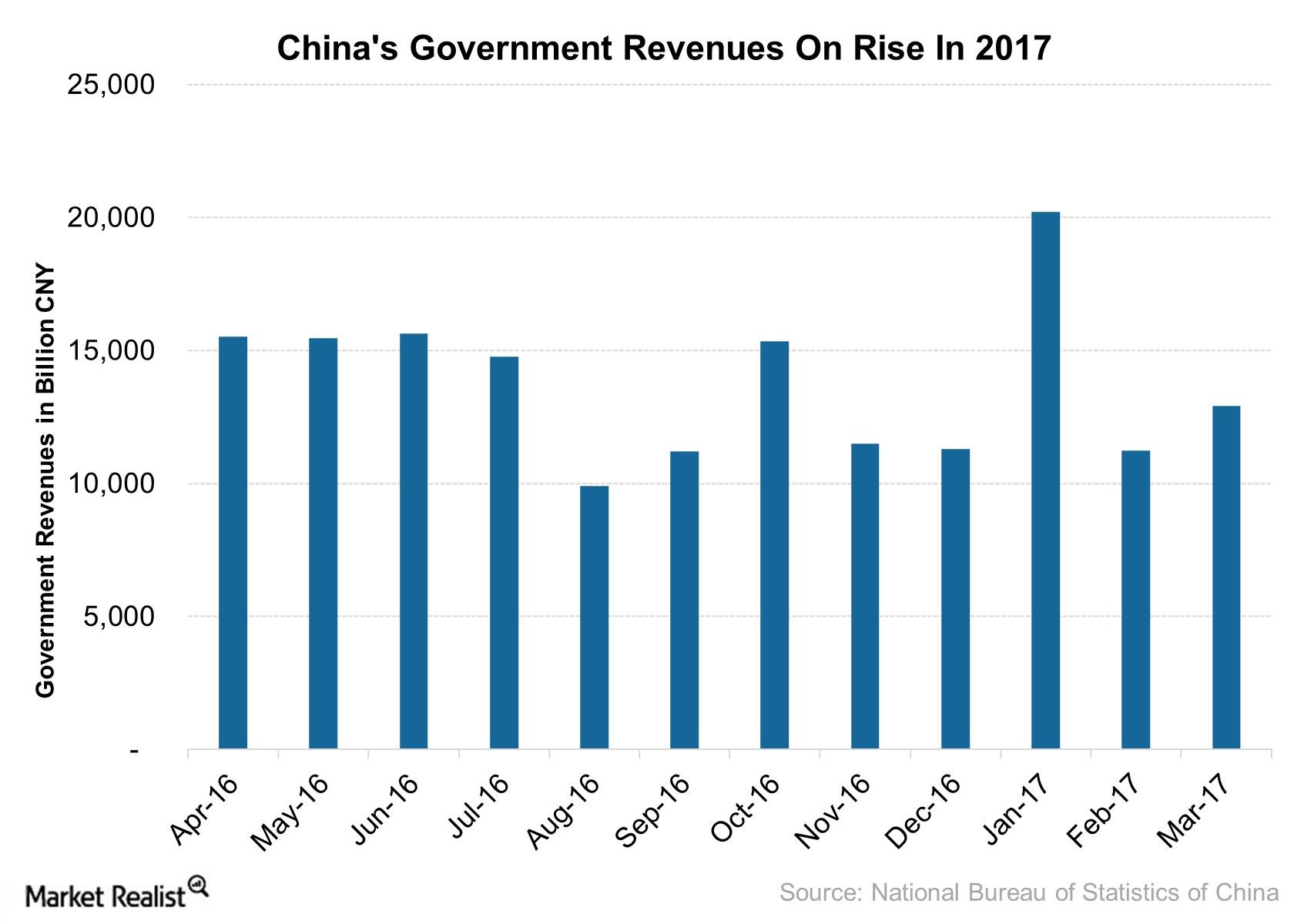 Are Fiscal Policy Reforms Providing Results in China?
By Mary Sadler

Apr. 19 2017, Updated 1:35 p.m. ET
Fiscal policy reforms in China
China's fiscal revenue growth has picked up since the beginning of 2017, as the country has seen surging prices and improved economic growth. China's 13th Five-Year Plan started its fiscal and tax reforms in 2016 and is expected to implement them throughout 2017. 
China's major fiscal and taxation tasks included simplifying the value-added tax (or VAT) rate across different categories. The fiscal revenues in China over the last year are illustrated in the chart below.
Article continues below advertisement
Fiscal revenues and spending in 2017
China's fiscal revenues stand at ~4.4 trillion yuan ($645.9 billion), an increase of 14.1% year-over-year in 1Q17. This growth slowed in March 2017, compared to the 14.9% growth reported in January 2017.
Fiscal revenues totaled ~1.3 trillion yuan, up 12.2% in March 2017 from the previous month, as shown in the chart above. The main driver for these increased revenues includes the continued momentum to rising prices at the production phase, an improved economy, and recovery in exports and imports.
Fiscal policy reforms and their impact
Fiscal reforms form an integral part of achieving sustainable growth. This includes reforms aimed at collecting revenues more efficiently, improving the fiscal framework, and firming up local government finances. The increased revenues from 1Q17 are expected to work toward improving China's economic activity and supporting its market performance (FXI) (MCHI).
The Global X China Materials ETF (CHIM) and the Global X China Industrials ETF (CHII) are expected to gain from increased investment and spending in China's manufacturing sector. Government spending is expected to boost the activity in these sectors in 2017.
In the next article, we'll look the improved manufacturing activity in 2017 and its impact on China's markets.