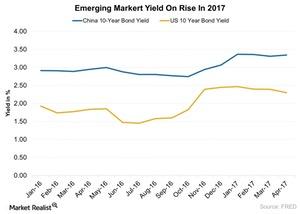 How Emerging Markets Reacted to the Fed's Tightening Policy
Impact of hike in the Fed rate on emerging markets
Emerging markets are becoming increasing important in the global economy, as they account for about 75% of global output and consumption. The external environment plays a crucial role in shaping and integrating markets in the global economy.
In March 2017, the Federal Reserve increased the interest rate by 25 basis points, bringing it to the range of 0.75%–1.0%. Changes in the Fed's policy decisions impact both the developed world and the developing world. Let's look at yields over the last year, as interest rate expectations rose in the US in 2016, as shown in the chart below.
Article continues below advertisement
Bond market yields in 2017
Since the 2008 global crisis, emerging markets have seen significant foreign direct investments. The developed market yields were at record lows, resulting in investments flowing to higher-yielding emerging markets between 2010 and 2015.
However, the US Treasury yields have been on the rise since 2016 with the positive development in the US market, including the improved economic activity and rise in crude prices. The US ten-year bond yield increased to ~2.4% in December 2016 from ~1.9% in January 2016.
However, with recent geopolitical risks around Syria and North Korea, the markets for short-term bonds seem to have pulled back. The markets seem to have shifted to safe havens such as gold (GLD) and the yen (YCS).
In the last couple of months, the US Treasury note yields have approached their low level due to geopolitical risks. The US Treasuries are also surging with President Donald Trump's comments favoring low-interest rates.
We can see in the chart above that the US Treasury yield dropped ~93 basis points over the last month. In comparison, China's ten-year yield increased ~32 basis points on April 11, 2017.
With the recent hike in interest rates in the US, investors have been shifting their base to the US markets (SHY) (IEF) and have sparked an outflow of capital from emerging markets (EMB) (PCY).
In the recent economic outlook by the International Monetary Fund, the IMF has warned that emerging markets need to become more resilient in 2017 due to several external factors. These external factors include protectionist policies and geopolitical crises to hamper the economic growth in the emerging markets.
In the next article, let's look at the equity performance in the emerging markets in 2017.